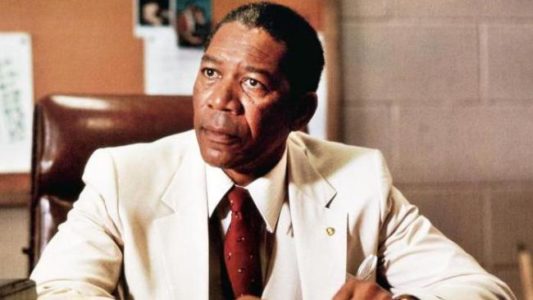 They've been lauded as one of the best bands of the 1980's to 90's and they definitely earned that title. Their hard-hitting sound lit up the tracks and were constantly being heard anywhere and everywhere they could possibly go. They were heard in movies, on TV, and were so hot that they were featured in one special after another. Women went wild for Axl Rose and any guitarist worth their strings wanted to be able to jam like Slash. They've undergone a few changes throughout the years and aren't quite the same sound they used to be but in their heyday they could jam with the best and usually come out on top.
Here are just a few movies that managed to incorporate their songs in a useful way.
5. Welcome to the Jungle – Lean on Me
Maybe we need more people like Joe Clark in our public schools to start turning things around. True, he was very hard on anyone that tried to just skate by and didn't conform to the rules. But at the end the result of his hard-nosed approach was that he got results. The kids learned, and they came to understand what it was to have pride in themselves and their school.
4. Paradise City – Can't Hardly Wait
Poor William Lichter was the ultimate geek/nerd of his high school until Paradise City came on. It's kind of sad that the only reason he remembers it is because a guy he tutored in math made him listen to it, but hey, you take what you can get. Who would've known that the right song, and a lot of alcohol, could have this kind of effect on a guy that nobody liked?
3. You Could Be Mine-Terminator: Salvation
https://www.youtube.com/watch?v=Oarxs5TgYWQ
This is actually an interesting throwback to Terminator 2 when John Connor was still a boy and the world hadn't gone to the machines yet. It was nice to hear really because it gave diehard fans a little bit of a treat from the past. It also indicates that John's taste in music hasn't changed since then, which is equally nice.
2. Sweet Child of Mine-Big Daddy
This one is admittedly performed by Sheryl Crow, but at least we know where it came from. To be quite honest though Crow has a very nice voice and she does an amazingly good version of the song. In fact it's fair to say that her version is more suited to the movie as it is simply because she doesn't hit the same notes that Axl does. No offense to GNR, but Crow had the feeling of the song nailed on this one.
1. Knockin On Heaven's Door-Days of Thunder
Racing for NASCAR has its own fair share of challenges. No matter what anyone says, myself included, racing is a very dangerous and extremely demanding sport. Each time a driver goes out on the track could easily be their last if they aren't careful. Racing around at those speeds, especially under certain conditions, is a dangerous proposition that is only undertaken by those that have the passion for speed and the need to win.
Any soundtrack Guns n Roses ends up generally picks up a little more energy no matter the song. Their music will be used in movies long after they're gone I'm thinking.