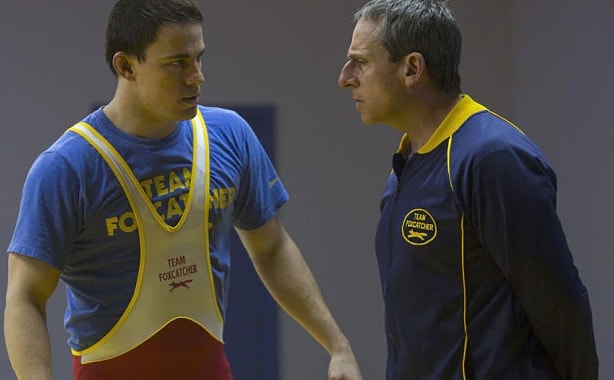 The Grateful Dead inspired millions of people throughout more than one generation during their run. Their music was the type that could mellow people out or get them to thinking in different, alternative ways. A lot of people idolized Jerry Garcia to such a point that he was almost seen as the wisest man alive in some cases. Unfortunately the group disbanded in 1995 after losing lead vocalist Garcia and has only had a few reunion tours since, which have included various performers to fill in as needed. The Grateful Dead is still a widely-known and much-respected band that has helped to shape American pop culture throughout the years.
Here are a few films that featured their music in their soundtracks. If the songs aren't heard in the clips it's likely that they were simply that hard to find.
5. Foxcatcher – St. Stephen
If you wanted a movie with obsession about wrestling then this is it. Mark and his brother Dave are both gold-medal wrestlers, but Mark has always felt that he's in his big brother's shadow. When E.I. du Pont attempts to recruit them both but only gets Mark at first. Eventually he gets Dave as well, but at this point Mark has been pushed to the breaking point and has begun to break down from the strain and the pressure that du Pont has placed on him.
4. Blue Crush 2 – Truckin
To fulfill a dream that her mother had when she was younger a young woman travels to South Africa to surf on the same beaches that her mother did so long ago. Along the way she has to learn what it means to really get along with the locals and understand the etiquette of riding the waves. Eventually she begins to understand what surfing is really about.
3. Salvation Boulevard – Franklin's Tower
Faith is a strange thing. It can turn murderers in to saints, and spectators into sinners. The difference is who will believe what and who is more convincing. Pierce Brosnan is excellent as the antagonist in this strange but compelling film as he seeks to overturn the life of one average man in an attempt to get away with the murder of a fellow writer.
2. The Dreamers – Dark Star
Theo and Isabelle are for lack of any other description as free with their sexuality as can be. But in being so carefree they are also quite fickle it would seem. When American exchange student Matthew meets the twins he is instantly enamored of their free and refreshing take on the world. But when he becomes deeply involved with them he finds himself slipping free of his sense of self. When they decide to join a violent riot in progress near the end of the movie however he cannot bring himself to join, and they spurn him for it on the spot. Like I said, fickle.
1. Masked and Anonymous – It's All Over Now
Sometimes in order to sort out the mess of life it takes some effort to just stop trying and let things lie as they will for a bit. That seems to be the message in this politically-driven film that appears to be as hopeless in many ways as people might see the current political landscape of the country.
The Grateful Dead are in fact featured in all of these films. If you can hear them in the clips then you'll know.
Save
Save