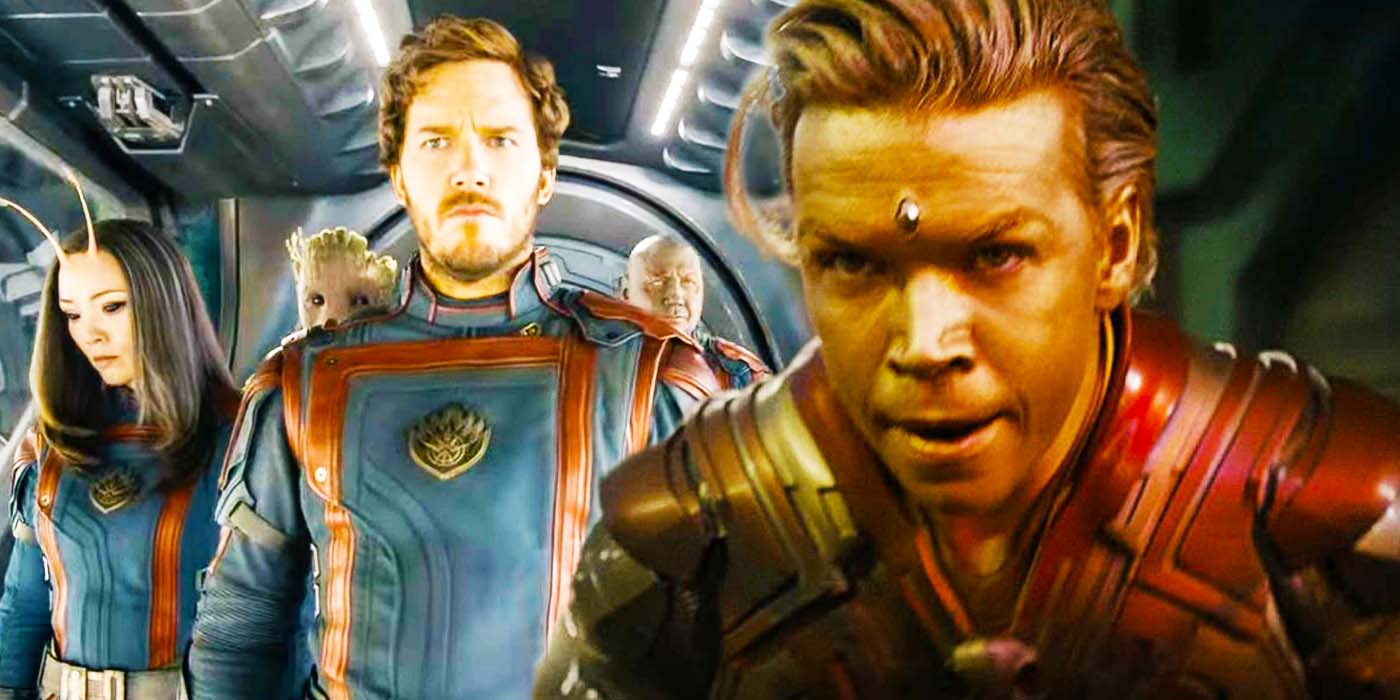 Adam Warlock is set to be an antagonist, and that could become a problem for the eponymous team in the Guardians of the Galaxy Vol.3. As a creation of the Sovereign, Warlock will be sent after the Guardians as a living weapon. The appearance of his birthing chamber in the post-credits scene for Guardians of the Galaxy Vol.2 made that clear, and his name being used made it a certainty.
While Adam Warlock is a new character for the MCU, in the comics he has been around for a long time. He has battled Thanos, been in league with Thanos, and has even done his own thing for a while. Adam Warlock is tied to the Infinity Stones and the comic storylines that surround them, and he's shockingly powerful. In brief, Warlock has been a big part of the Marvel Universe, and he's one of the more powerful cosmic characters. In early Guardians of the Galaxy Vol.3 Adam Warlock images, imply that the character will still be in his infancy, so his ability to turn against the Sovereign might be limited. That's bad news for the Guardians of the Galaxy as Adam is powerful enough to take them all on.
Adam Warlock's Comic Powers Are Game-Changers (If He Keeps Them)
In the Marvel Comics, Adam Warlock is a character that's stacked with powers that allow him to match most other characters in combat, absorb and consume energy, and while he can die his soul will always return to life making him functionally immortal. This leaves Adam Warlock in the minority of Marvel characters who has managed to take an attack from Galactus and lived to tell the tale. In the comics, Adam Warlock was easily on par with Thanos at times and was the only being that successfully worked in harmony with the Soul Stone.
However, whether these powers will all remain intact for his live-action debut remains to be seen: the MCU has seen many of its characters powered down, while others have had whole new powers granted to them. For Adam Warlock, the fact that Captain America replaced the Infinity Stones in Avengers: Endgame, could pose a serious problem and result in him not having access to all of his powers. Without the Soul Stone, it might be hard for the MCU version of Adam Warlock to break free of the Sovereign, leaving him to be simply their weapon. However, if a similar tool is granted to Warlock, then it might even mean that Adam can become, if not a hero, then at least less of a villain in Guardians of the Galaxy Vol.3, and ultimately shape his MCU future.
Adam Warlock Will Force The Guardians Even Closer Together
With Adam Warlock such a powerful figure in the MCU, none of the Guardians of the Galaxy are fully capable of taking him on alone. Adam Warlock might not be an expert fighter, but his powers more than make up for this. Together, the Guardians do have a chance to take him down. But one on one, none of them stand a chance. This will make him a powerful weapon for the Sovereign, at least until he can escape their control, and this might signal a major character death.
While the MCU's Drax is strong, he's not the powerhouse that he is in the comics. With Dave Bautista announcing that he's done with Drax, it's possible that he might die in Guardians of the Galaxy Vol.3, helping to unite the rest of the team against Adam Warlock. Even in the comics, Warlock was always smarter than Drax, but also a lot tougher.
How Warlock will move forward from this movie is uncertain
Guardians of the Galaxy Vol.3 is set up to be the last movie for the central team as they are known in the MCU. This makes Adam Warlock's future uncertain as he was known to work with the Guardians and many others over the years. With several actors moving on, it's fair to think that his path is going to be different.
In the comics, the Magus and the Goddess are a huge part of Adam Warlock's Marvel future, but with the Infinity Saga over the introduction of the figures might not happen. So much of Adam Warlock's story is tied to the Infinity Stones, that having him teased before Avengers: Infinity War but not appearing in person until well after the Infinity Stones are destroyed is a strange choice that means his MCU story is uncertain at this time. However, Warlock is being given an appearance that's close to his comic book counterpart, and it is comforting to see that the MCU is clearly drawing on those comic origins in certain ways.
This probably won't be the only movie that Poulter does in the MCU
The MCU is somewhat infamous for killing off its villains after only a single movie, and it doesn't sound as though there's any long-term plan for this character yet. However, Adam Warlock has been teased for a long time and there's huge scope for him to return in another movie at some point. If the idea that he's going to be fairly immature in this movie is true, then future movies will have the opportunity to show him grow and demonstrate what Warlock can really do. That alone is reason to think that Will Poulter will stick with the MCU and appear again after Guardians of the Galaxy Vol.3.
Tell us what's wrong with this post? How could we improve it? :)
Let us improve this post!