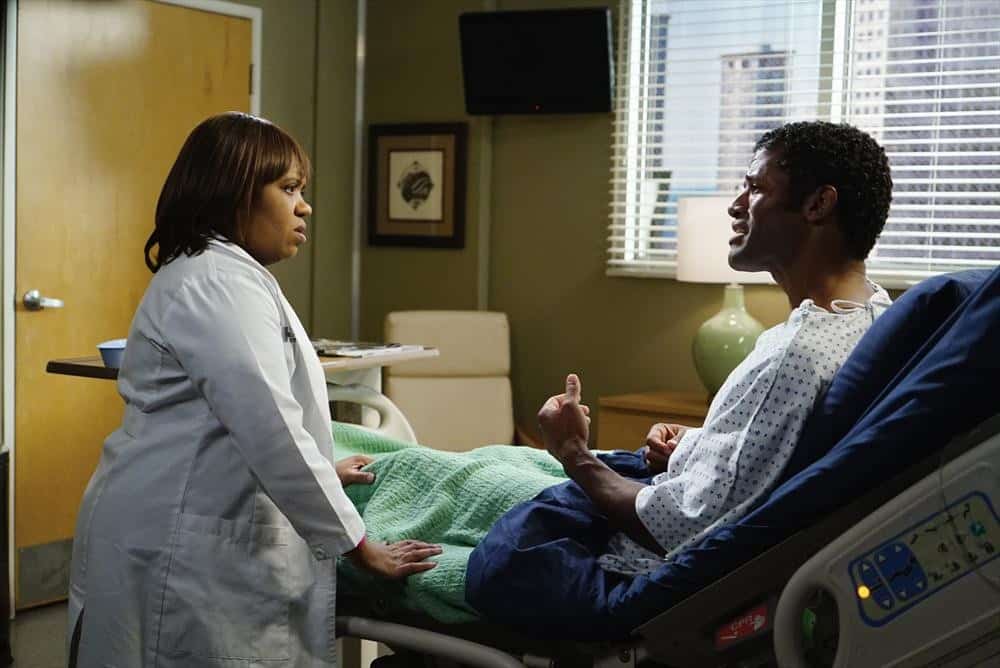 After last week's emotional trauma with Jackson and April, Grey's Anatomy needed to get back to the daily grind. Which at Grey Sloan Memorial, means getting freaky and embracing your inner teenager.
Meredith returns home looking very dodgy, avoiding all questions from her friends about her weekend getaway to see Derek. Others may not catch on, but Maggie received personal calls from Derek asking where his wife was, so she knows her sister is not being honest. Meredith being Meredith, instead of being honest, goes on the defensive with Maggie and makes her feel unappreciated. So where in the world was Meredith Grey? In town the whole time apparently, in a hotel room near the airport because she couldn't get on the plane. She later admits to Alex that she actually had fun being by herself, not being anything to anyone. Though she doesn't want a divorce, she just doesn't want to be with Derek right now.
A hike into the woods doubles as a funeral for Ben's father as Ben, Bailey, and Ben's brother Curt lay his ashes in their final resting place. Before they can get out of the woods though Curt collapses and subsequently rolls down a hill unconscious. Meredith doesn't understand what she sees in Curt's labs, until he admits that he is in transition to become a woman. It doesn't take long for Bailey to figure it out ("I'd kill to have eyebrows like that"), but Ben doesn't take the news as well. It's difficult for Ben to wrap his head around how he didn't know, and he lets the hurt overwhelm him. Miranda Bailey doesn't wait around to be asked to jump in though, and she forces her husband to at least face the fact that this is happening, whether he's on board or not. She even supports Curt/Rosalyn by getting Jackson to start consulting on the transition process.
Herman is actually really fun this week, doing that which only a dying woman can do full force, embracing all of life with no judgment coming her way. She's having fun getting her flirt on, and finds Arizona's uncomfortableness with living with Alex and a very naked Jo hilarious. She can't stop laughing at what a "dirty girl" and hypocrite Arizona is after her indiscretions. What Herman really does though is open Arizona's eyes to the fact that you're supposed to have fun in life, and not let anyone make you feel like you're just going through the motions. If anyone would know, it would be the dying woman who steals hospital furniture for amusement.
The doctors aren't the only ones with the freak. Callie, Amelia and Jo deal with a patient who has been faking feinting spells, one of which landed her in the hospital after a tumble down some stairs, because she can't listen to her boyfriend anymore. The boyfriend is so incredibly boring and over-sensitive that the girl actually risked her life to get away from him. This makes Amelia and Callie reflect on their non-existent love lives, and isn't it sad that the always running around the house half-naked Jo is the one in the healthy relationship? If Amelia and Callie can't fix their own love lives, then they're going to at least help their patient with hers, if only to save her from risking her life again. So it's goodbye to the overbearing boyfriend, and hello to new experiences. Amelia gets her game back by paying a visit to Owen that ends in a serious lip-lock, and Callie just lets herself go dancing.
Webber is trying his best to help Catherine through losing her grandson, but it becomes clear she is more interested in Webber for his hospital access than for himself. Catherine is desperate to stick around and keep tabs on her son and daughter-in-law after their loss, but the way she describes is sounds more like stalking. Webber feels used, but Catherine makes a good point when she tells him that he seems to find powerful women attractive up until the point that they hurt his feelings. This is something that Webber has admitted he did with Ellis Grey, so now he needs to realize he can't have it both ways.
This is why we fell in love with Grey's Anatomy in the first place. When you work in such a high pressure, emotionally exhausting environment, it's important to find the fun in life.
What did you think about the doctors getting back to taking risks? How much risk is too much risk for Meredith and Derek to endure?
[Photo via ABC]