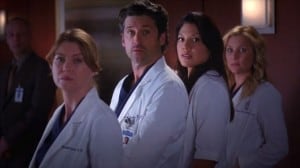 When it rains, it pours this week on Grey's Anatomy. Emotions are high and Seattle Gracers are tense as a monsoon wraps its way around the Washington city.
Viewers are on edge from the start as the show opens on the plane crash victims (nee Cristina, who yes, is still comforting Owen), butting heads over their indecision to buy the hospital out from under Pegasus. Voices are raised and barbs are exchanged, mostly courtesy of Arizona, who would rather suck up the administrative changes than throw away the money that could be spent on future what-if disasters or Sophia's future.
Back at the hospital, Cahill prepares Owen for dealing with a gaggle of nurses who are up in arms over new schedule changes and split shifts, thanks to Pegasus regulations. And they're not the only ones frustrated. Dr. Bailey, who up until this point was determined to keep cool and flow with the new changes, completely loses it when her genome-mapping surgery is denied, a cutting-edge procedure that could save a young cancer patient's life.
Cristina berates a couple of interns after hearing them whisper about switching to a new program. After shooting down the plan to buy the hospital so the doctors can remain at Owen's side, we see the gears start to shift in Cristina's mind as the interns ask her what she would do in their case. Would she risk her future as a doctor for the sake of hospital loyalty?
Kepner's got her own problems to deal with after cute paramedic (Seriously, what is his name?) asks her out on a real date. She spills the beans to Jackson, desperate for advice on how to explain her new revirginization. In an achingly sweet moment (GAH!), he tells her to be herself, because any guy will appreciate her. As the evening unfolds, Kepner's surprised to learn that cute paramedic (let's just call him CP) is saving himself for marriage, too. All's well that ends well, right?
Well, no, actually. Now that she knows CP's a virgin, Kepner struggles to explain her sexual history after she confesses that she too, is also a "virgin." Hmm. Wonder how THAT secret will play out later in the season?
Over in Peds, Alex and Jo deal with a couple of sparring parents, anxious over the life of their newborn baby. In a storyline we all saw coming, Jo wrestles with the idea of workplace relationships after she discovers that the parents are co-workers who hooked up one night at an office party. What we perhaps didn't see coming is the other doctor (some OB hottie) that Jo finally worked up the nerve to ask out on a date. And surprise! The story closes on Alex, who seems to be a little put off by the relationship. Maybe these two will finally get their act together.
But it's more likely that it'll come to fruition at the end of the season, don't you think? That's a finale revelation if I ever saw one.
Arizona spurs into action after witnessing a desperate Bailey advise her cancer patient to seek treatment elsewhere. She gathers everyone outside, huddling under umbrellas, to tell them that she's finally onboard. After Cristina learns that Pegasus is pushing up the sale, the doctors realize they must act quickly.
But after a cloak and dagger meeting with Derek's financial advisor, they realize that they don't have enough money to complete the sale just yet. So in order to stall for more time, they must do something drastic.
Bursting into the hospital's meeting with Pegasus, they all quit so Pegasus will back out of the sale.
The betrayal on Owen's face is almost too much to bear, but due to breach of contract, none of the doctors can explain their plan.
We close on the Fab Five attempting to drink their sorrows away in the cocoon of MerDer's house while Owen's left out in the rain (literally), pounding on Cristina's door, pleading for answers.
You win this round, Shonda. Not sure how much more my heart can take.
Grade: B