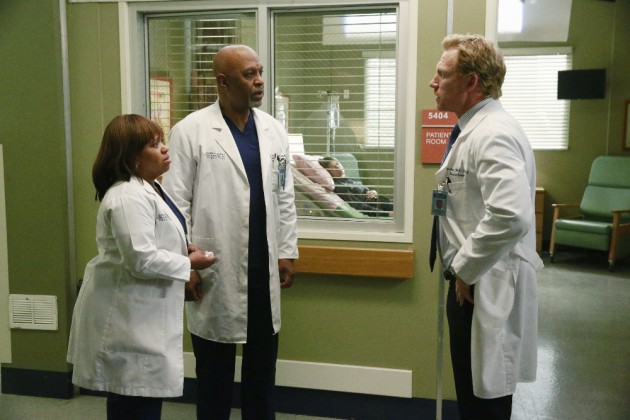 The world is still recovering from last week's shocking death of Dr. Derek Shepherd, and has been anxiously awaiting how his exit will be handled. Grey's Anatomy told the story this week, and the way it was done was almost as shocking as McDreamy's death.
The opening scene was a repeat of last week's final minutes, with the introduction to Ellis Grey flashbacks that would be prevalent throughout the next two hours. Meredith is left to tell her colleagues that Derek has died, and that's all she has the energy to say before she collapses and has to be admitted. This leaves Owen to tell Amelia that her brother is gone, which she handles a little too well with a stone face. Anyone expecting to get a more thorough look at the immediate aftermath of the news spreading was sorely disappointed. In five minutes we instead get Derek Shepherd's quick funeral and Meredith taking her kids and fleeing Seattle afterward. Her friends go into an immediate panic, but Richard points out that this is exactly what Ellis did, it's exactly what Meredith knows how to do and what she needs to do for now.
The rest of the two hours do not cover the span of the next few weeks, but shockingly the next year! Using holidays as time markers, the show covers what happens at Grey Sloan Memorial for the next year, without Meredith Grey. I'm still not sure how to get my mind un-blown from this move, so let's just talk about what happened.
April was already in a fragile place after losing her son, so she needed to make a change to get herself in a better place. Owen decides to sign up for another tour of duty in the Middle East and April decides to go with him for the next three months. Jackson reluctantly lets her leave, never imagining that she would find reasons to extend her stay there for the next year. At one point Jackson even has to endure wondering if his wife is alive when he loses her during a call filled with sounds of gunfire. April does return though, right into her husband's arms.
Callie's boring cop Dan comes back into her life when he ends up as her patient after he falls off of a roof. With a fused spinal cord and a severely injured leg, Dan spends months in the hospital recovering. Callie does eventually have to amputate Dan's leg, but this isn't a repeat of what she went through with Arizona. Dan's reaction to losing his leg is the complete opposite of Callie's ex-wife. Dan is grateful to be alive, he's grateful to Callie for her support and friendship, and he repays her by being there when she talks about the amazing neurosurgeon who made it possible for him to receive a bionic leg. I'm not saying Callie and Dan should be a couple (though it would be great if they were), but the simple fact that Dan was able to just be Callie's really good friend was enough. Good friends, who don't judge, who don't blame, who don't try to think past the moment that you are presently supporting one another, are hard to come by.
Arizona's experience isn't really focused on other than her close interactions with her friends, but she shines in a scene where she yells at an incompetent, inconsiderate doctor for going on about putting someone new in Derek's position. I literally applauded.
Ben and Bailey spend the next year discussing and clashing over the subject of whether or not they keep each other on life support if the worst should happen. Bailey chooses to be unplugged, but is stunned when Ben says he wants to stay on machines on the off chance he can be the miracle patient who wakes up. Bailey fights Ben on this plan every step of the way, but when he finally gives in and lets her have her way, she breaks down. As much as Bailey wants to be practical about this decision, there's nothing practical about losing the person you love most in the world, and she knows that no amount of planning is going to be enough if she loses her husband. Meredith and Derek morbidly and obsessively discussed the worst before it actually happened, and Meredith still didn't have a plan for what came next.
At this point in his life Richard has seen more loss than anyone and it is remarkable that he is not jaded and cynical. Webber believes in love, he believes in seizing the moment and making a big grand display, knowing that at the end of your life you'll only regret the moments you didn't take advantage of. This clashes with Catherine's practical approach towards life, until Maggie steps in and defends her father's right to want the big spectacle moments out of life. So Catherine pulls off a very un-Catherine like gesture when she publicly and lavishly proposes to Richard, which he of course accepts.
Amelia's attitude for the next year would be disturbing to see on anyone, but it is especially scary to see on the face of a recovering addict. Amelia has now lost her father, her boyfriend, her son, and now her brother; who could blame her for becoming an addict after all of that? Instead of relapsing though, Amelia gets through the year with a smile and really awkward jokes about her dead brother. When Owen finally returns from his tour he returns in time to see Amelia have her first public outburst since her brother died. He then finds her on Derek's doorstep, pacing back and forth contemplating getting high. For almost a year Amelia has stuffed down the pain of losing her brother rather than letting it in, and Owen realizes he did the exact same thing when he ran off to war. "It's not normal…we're supposed to break and be destroyed, and rebuild ourselves, and be destroyed again. That is human, that is humanity, that is being alive. That's the point." Owen's words break through to Amelia, who finally screams out all of the pain she has been keeping in.
Jo spends the year with a case in the burn unit. Anne and her roommate JJ form a friendship in the burn unit, supporting each other's pain with humor and empathy. Anne's husband can't handle sticking around to watch what his wife is going through, but JJ sticks by her friend. When JJ suddenly dies, Anne is left to pick up the pieces and move on. She does this in the best way that she could possibly honor her friend, by becoming a source of support to her next burn buddy the way JJ was for her. Life moves forward, and you have to find the strength to move with it, even when you think you can't.
Jo and Alex are still going strong, and their house becomes home base for the tight knit group of doctors the way it was back during Alex and Meredith's intern days. Getting on with his life doesn't stop Alex from worrying about his best friend, and he doesn't stop calling Meredith everyday for months until she picks up. When she finally does, it's ten seconds of "I'm fine, the kids are fine, please stop calling".
This segways into the first glimpse of Meredith Grey in months, a very pregnant Meredith Grey. Derek got his wish for a bigger family, a baby girl, he's just never going to be able to see her. We never learn exactly where Meredith is, other than some obscure shots of her kids on the beach. Meredith spends months getting herself strong enough to give birth to her last child with Derek, a loop of her life with him and her mother's inner torment three decades ago running through her head. Thus far Meredith has been able to do this on her own, something that was necessary for her to figure out since she will be raising three children on her own. However when Meredith has labor complications her daughter is put in the same position that Meredith was when she was little, calling for help for her mother.
Alex finds his best friend with a new beautiful baby girl named Ellis, and Meredith is finally ready to face the world with some happiness as she faces everyday seeing Derek in their children. Ellis Grey was a brilliant surgeon, she was cold and demanding, she was deeply resented and deeply loved. The flashbacks in this episode also showed the strength that Ellis had, to give up her daughter after losing the love of her life, and to keep fighting everyday. Meredith has this strength, her children will have this strength, and the point is that they endure together.
What a time jump! Was it rushed though, or was it a fitting tribute to Derek Shepherd's legacy?
[Photo via ABC]