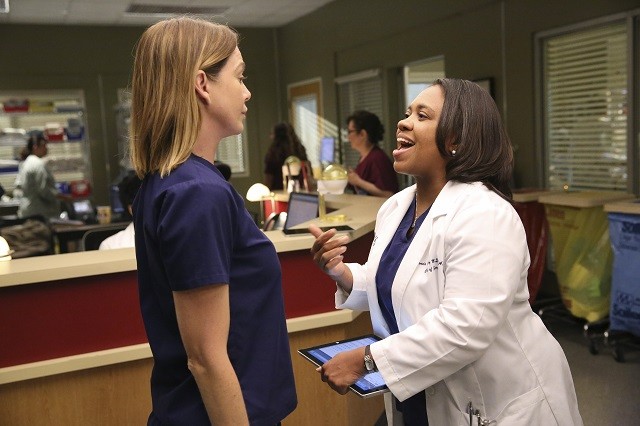 Grey Sloan Memorial Hospital embraces its new Chief of Surgery on this week's Grey's Anatomy, at least at first.
It's the return of the Nazi! In any other context this would be a bad thing, but Miranda Bailey was born to lead. She wants her first day as Chief to be perfect, and so wastes no time in shooing everyone to work, unintentionally missing out on her congratulatory first day cake. It's the first sign Webber senses this day isn't going to go as Bailey hopes.
April and Jackson have to table "the talk" when April turns up with a fever and lesions and so has to be quarantined. It doesn't take long for April to start freaking out, since being stuck in a bubble means she can't talk to her husband. Bubble Girl ends up being a silent sounding board for Arizona, Owen and Richard's problems. Eventually April cannot take it anymore and pages Jackson 911. It's a horrible confrontation which shows just how fractured Jackson and April's marriage has become. April wants to fight, but Jackson isn't sure they have anything worth fighting for.
Grey's is getting back to the lightheartedness of its good old days. Other relationships are faring better than "Japril". Owen and Amelia are still dancing around each other, but doing alright. A nice shoutout to the memory of Dr. Sloan is made when Amelia asks Callie if she's ever had a friend she wanted to make out with all the time; Sofia was the result. An intern follows Jo around like a puppy dog, clearly unaware she has a boyfriend. Jo and Alex are stable, but from the look of next week's promo, their circumstances are about to change dramatically.
Another concept along this lighthearted vein which returns this week is the oddball case. This week it's a woman who suffers from abnormal growth, and Bailey calls it as a pituitary tumor. This woman refuses to wait more than four hours for a treatment plan because her job is to bring web access to children in Africa. So Bailey delegates Maggie, Jackson, Amelia, and Callie the impossible task of finding a way to remove this woman's tumor so that her recovery time is no more than a week. The Nazi approach may have worked when she was a resident, but it seems to be having the opposite effect now that she's Chief.
Meredith is feeling the strain because Bailey unloaded all of her patients onto her. Everyone else hates her for putting them in such a tight position, especially when the patient collapses, exacerbating her condition. Warren is not too happy with his wife either because he is being forced to hear what his colleagues are saying and to go along with Bailey's plans. Webber, who spends the entire episode worrying about his protegee, is the one to convince a weary Bailey of what she needs to be doing. He tells her she need to be a leader, not a general; someone her staff can run to, not run from.
Luckily the patient pulls through and Bailey changes her attitude. She admits her mistake and praises her staff for their perfect work in spite of the circumstances. She also praises Meredith, calling her the new "Me", and awards Meredith with the Chief of General Surgery position. If anyone can handle being the new Bailey, it's Meredith; and if anyone can handle being the new Webber, it's Bailey.
Was Bailey's first day as Chief of Surgery everything we hoped it would be?
[Photo credit: Adam Taylor/ABC via Getty Images]