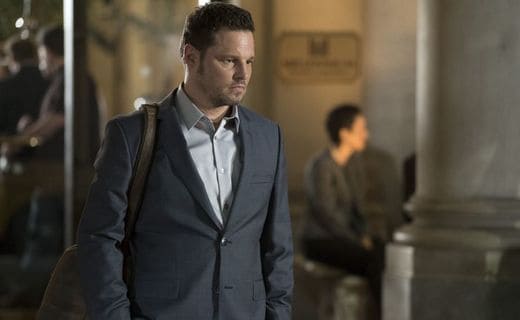 Not that Season 13 of Grey's Anatomy hasn't had some big moments, but they've been more of the quiet kind. The penultimate episode of the season, "True Colors" was loud. Every minute was jam-packed with not only dramatic OMG moments, but the gut-wrenching emotions to back them up. Even when the news was good, the feel of the hour was as raw as possible. We got to see deeper into the minds and thought processes of a few of the doctors in ways we haven't all season. And that was all before the massive, literal bomb went off.
I'm not sure what possessed Alex to go searching for Jo's husband (guest star Matthew Morrison) at this particular point in time, but he's found him. Jo's abusive other half is Dr. Paul Stadler, also a seasoned surgeon. That explains how Jo was lured in and how she became a doctor. Because Alex and Jo probably won't be able to truly move forward until they deal with him, we'll see him again. I'm extremely proud that Alex had the good sense to, for once in his life, think about each and every scenario before confronting this man. Alex showed great maturity and wisdom realizing that no good would come of meeting Jo's husband, but that final look was enough to make the man suspicious. Alex may have just been the catalyst for a scary course next season.
When an Army chaplain comes to your door, 99% of the time the news is not good. This is not one of those times. For a decade Owen believed that his sister was lost to him, but it was confirmed (by Teddy Altman herself!) that Megan Hunt is alive. This changes everything for everyone. Meredith and Riggs finally got on the same page. She even asked him to meet her kids. We can't imagine the turmoil he'll go through when he realizes his fiancee is still alive, though we got a glimpse of that turmoil from Owen's reaction. Owen could not bring himself to hope that it might be true until Teddy confirmed it to Amelia. Kevin McKidd gave one of his best performances in his entire time on the series as he expressed his overwhelming joy and guilt to his wife. If anything can bring Amelia and Owen back together, maybe it's this.
Stephanie should have just stuck with the therapy for the day. Or gone to the park, or gone to Disneyland. Literally anything would have been better than coming to work. Stephanie is an excellent surgeon and she's proven she is just as good with patients as she is in the OR. She wouldn't have lost her temper with a patient's father if she wasn't a steadfast advocate for her patients. Even sidelined from the OR she wanted to do good for the man she believed wanted to get to his hurt girlfriend. She couldn't have known that the man she was tending to was a violent predator. Her golden heart put all of Grey Sloan on lockdown, and Stephanie had to use her quick-thinking skills to figure out how to get away from the scalpel-wielding madman. But Stephanie couldn't just protect herself. She had to worry about protecting the little girl wandering the halls, not to mention the entire hospital. I wish I could say I believe she survived the ensuing explosion, but if it took out an entire portion of the building, it may be too much to hope for.
Tune into the Grey's Anatomy season finale next week to find out if Stephanie survived. Who do you think gave the best performance of this gut-wrenching episode?
Grey's Anatomy Season 13 Episode 23 Review: "True Colors"
Summary
The penultimate episode of Grey's Anatomy's 13th season packed the biggest punches of the entire year.