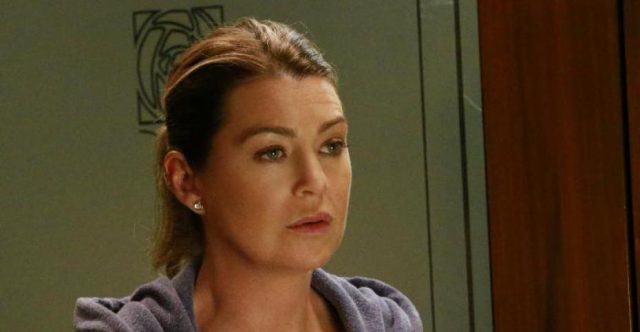 We all would like to think we are grown up, but experience tells us that we are capable of making colossal mistakes in the moment. This is where Alex Karev finds himself in the Season 13 premiere of Grey's Anatomy. Season 13 picks up right where Season 12 ended. Newly married Owen and Amelia are blissfully happy. We're starting with them because the honeymooners are literally the only people who are 100% carefree for the rest of the hour. Everyone else is left reeling from all the trauma.
Before the heavy, let's take solace that after a horrible past two years, Jackson and April are finally in a good place. They have their baby girl and couldn't be more grateful. April bounces back fast. She decides to spend her time messing with Catherine as payback for the conflict between them the past few months. April leads Catherine to believe the baby doesn't have the last name Avery, but after some slow torture learns it is baby girl Kepner-Avery. Welcome to the world Harriette Kepner-Avery. Digest that name folks.
Riggs is all in, as in all into Meredith. Meredith is Meredith; her first impulse is always to resist. Her second go-to is to distract herself with other people's problems. That second one takes a good long while. When Meredith finally gets a moment to talk with Riggs, she shuts him down. She won't give herself a chance to explore what could be since Maggie has such a big crush on the guy. You have to admire Meredith for trying to step up as a sister. She's a far cry from the girl we knew back in Season 1, the girl who counted on no one. That being said, lying never ends well.
Alex is in huge trouble after beating DeLuca. I'll be honest. At the end of Season 12 I truly thought Alex would have stopped at some point, but apparently he did his worst. Alex realizes too late what he has done, and no amount of tending to DeLuca in the ER changes that. Despite the confusion surrounding DeLuca's injuries, Maggie is by her ex's side the whole time.
Back at the loft Jo is beside herself. She can't contain her hysteria long enough to tell Meredith what happened. One look at the apartment and Alex's knuckles later on, and Meredith can put two and two together. When it comes down to it Alex is her person. If she didn't personally witness what happened, then Meredith isn't going to admit to knowing anything. With Owen on his honeymoon and April in a hospital bed, Bailey lifts Ben's suspension so he can run trauma. This puts Ben in a position to realize that Alex is the one who beat DeLuca. However, he doesn't think it's his place to report him. Not to mention he and Bailey are still walking that precariously thin line between marriage and work responsibilities. They're going to need to handle these conflicts on a case by case basis.
While all this is taking place Webber is left taking care of Jo. He can address the "I made a drunken mistake" part, but he can't really help with the rest. A) Because he is unaware that Jo is secretly married to an abuser, and B) that problem is definitely not going to be solved by coffee and sunlight. Nor, apparently, is it going to be solved by talking to Alex. Jo and Alex's first conversation ends with Alex making some pretty big assumptions about Jo's behavior. Stephanie, Webber, and Meredith have to mediate so that Jo doesn't run away and Alex realizes the enormity of the mistake he made. He attacked an innocent man for absolutely no reason. Having destroyed DeLuca's career and damaged his relationship with Jo even more than it already was, Alex turns himself in.
Will Alex lose his freedom over this, let alone be allowed to keep practicing medicine?
Grey's Anatomy Season 13 Episode 1 Review: "Undo"
Summary
The repercussions of Alex's recklessness explode in the Season 13 premiere of Grey's Anatomy.