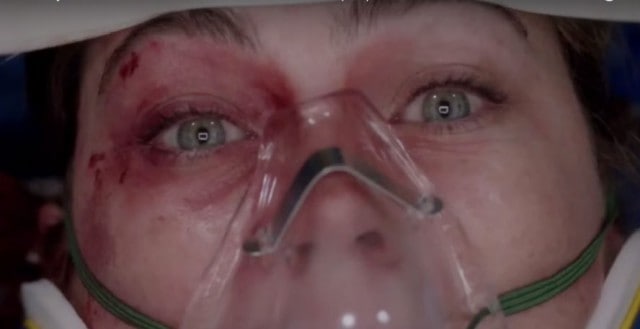 I'll never understand why Grey's Anatomy fans have to wait so long for the return of TGIT. Nevertheless, the doctors of Grey Sloan Memorial are back on our screens. Not only is this the midseason premiere Grey's fans have waited months for, the episode is directed by Academy Award winner Denzel Washington
Some time has passed since the events of the midseason finale, so we don't get immediate answers to all of the cliffhangers we were left with. Alex has now moved back in with Meredith, at least temporarily as far as we can tell. Things are more tense than they have ever been between Meredith, Amelia, and Owen.
Meredith treats an ordinary accident patient. Lou is actually a very nice man with a head injury. He's able to carry on a good conversation with Meredith. Following a seizure, Lou is combative and attacks Meredith. Alex is beside himself while Amelia is in so much shock she crumples to the floor and crawls into a corner. Meredith's friends treat her injuries, but Alex realizes she can't hear anything. Meredith spends the next few days in silence, cognizant of everyone around her but unable to do or say anything. A huge chunk of the episode is complete silence to emphasize what is going on in Meredith's world. The first person she is really able to communicate with is Penny. She orders Penny to give her a clear look at her prognosis, including all scans. All she can do is silently cry, until Alex comes in to check on her and she is finally able to hear.
Because of her injuries Meredith is also unable to talk. It's amazing though, it really is true that when you can't use one sense another compensates. Meredith cannot talk, but it gives her the opportunity to observe her surroundings. She notices Jo taking care of Alex even though they don't seem to be in a good place. She notices Jackson and April fighting. She notices Amelia hovering and being distant with Owen. She definitely notices the scared looks on her children's faces the first time they see her in weeks.
She's also at the mercy of others, to hear what they want to say without being able to talk back or run away. Webber finally offers up a valid summation of Meredith's problem with Amelia; she is the wrong Shepherd. Meredith cannot be around Amelia because she's not Derek. Webber encourages her to forgive, if only so that she herself can heal. She needs to forgive Amelia and she needs to forgive Derek. She starts with forgiving Lou. Once she is healed, Meredith tells Alex that he needs to go and be with Jo.
Penny really steps up in this episode. It's not even remotely about guilt anymore, she is driven by her passion for medicine. From the minute Penny finds Meredith on the ground she is there for her. Penny does everything Meredith asks of her because she knows it is in the best interest of her patient. She also defends Meredith's right to make her own decisions based on all the information she has. It was Meredith's episode, but it wouldn't have been as satisfying if she didn't have a champion
How do you think Meredith will cope with her trauma?
Grey's Anatomy Season 12 Episode 9 Review: "The Sound of Silence"
Summary
The midseason premiere of Grey's Anatomy sees Meredith through the aftermath of yet another trauma.