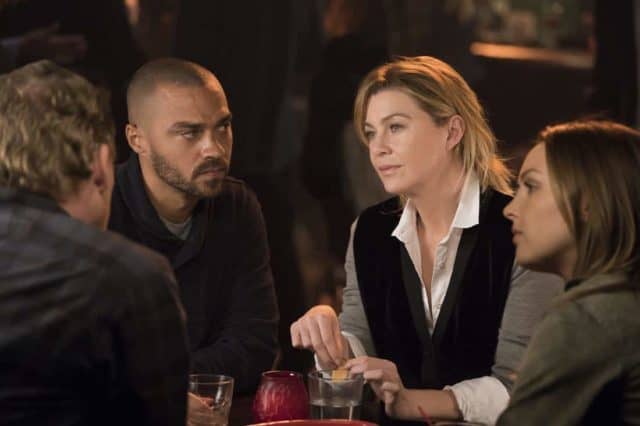 The competition is hot, almost fiery hot. Yes, that is a bad pun to allude to the upcoming mini-crossover between Grey's Anatomy and its spin-off, Station 19. Before we are introduced to the firefighters of Seattle, the doctors have some cleaning up to do. This time it isn't just about fixing patients. This week, the Grey Sloan Memorial doctors compete develop the most innovative, life-changing medical procedures. Everyone's ideas are worthy of seed money, but not every one of them can make it to the next phase.
Unless you're Amelia Shepherd, inspiration doesn't come naturally under pressure. While she initially has five ideas brewing, everyone else is stumped as to what to their final projects will be. Did I mention this is on the eve of the first competition deadline? The wonderful thing about inspiration is that it usually comes from something you're passionate about. Each one of the doctors finds something to be passionate about in their field, and it becomes about so much more than just a contest.
Jackson is one of the only people, besides Amelia, who has a concrete idea. Spray-on skin sounds like a revolutionary idea for all patients who go through some form of plastic surgery. Though given the upcoming firefighter spinoff, the potential application to burn victims comes to mind. Catherine Avery has a different approach. She brings her friend, Dr. Michelle Velez, to Seattle to propose a technique to improve on the gender affirmation surgery for transgender patients and women who have had cervical cancer. Jackson weighs the cost and benefits of both projects, not the least of which is not talking about reproductive organs with his mother. Sorry Catherine, but being woke does not mean ever, in any way, being comfortable talking to your parents about intimate details. The fact that his initial idea is years away from being developed makes the difference. Is there any time Catherine Avery doesn't get her way?
Maggie also has her idea prepped, and is even ready to deliver it in both MLA and APA presentation format. Maggie always thrives at work. She thrives on the pressure by being meticulous. The same can not be said for her personal life. She has no idea if she is making the right dating choices, and all she wants is a magic wand to tell her what to do. This inspires Webber to make a form of his daughter's dream come true. He takes her magic wand, and turns it into a device that will be pre-programmed to detect and differentiate healthy tissue from cancerous tissue. If I'm understanding this correctly, that device could eliminate, or at least narrow down, the need for biopsies.
Meredith and newly freed Jo find their happy place in a patient with rare mini-spleens. The condition is rare enough to get them to do a happy dance in the OR, but inspiration strikes Meredith in that moment. She was struggling not only with the contest, but with how to help one of her patients, a friend of Webber's in liver failure. Meredith gets the idea from the regenerating mini-spleens to apply their science to livers, so that patients in liver failure don't have to wait for a transplant to kick the liver back into full function. Meredith's technique can't work in time to save Webber's friend, but maybe it can for the next patient. The good news is that this time around, now that Jo is safe, her full name will appear on Meredith's paper.
Not even a heart attack can keep Miranda Bailey's competitiveness from taking over. The advantage of being the Chief is that she can summon interns to her home to bring her supplies. It would have been nice if she shared her intentions with said intern before sending him off to gather various suspicious and uncomfortable supplies.
Despite DeLuca and his girlfriend's tireless work on narrowing Amelia's choices, they all go out the window when Amelia and Alex's patient's cancer returns. Their future Broadway star knows the drill with cancer, but this time around, her doctors have to find a way to resect her tumor without taking away her ability to speak. Alex and Amelia get the idea from their patient's beautiful voice to basically shatter the tumor using sound waves. First, they need the funding to make it happen.
The death of Karen, April's ex-fiancée's wife, was a tough blow to April and Arizona. April is just…quite frankly, April as we knew her has left the building. She's gone on vacation, to Mexico, and is downing margaritas like there is no tomorrow. The April left in her place is acting very Meredith Grey, circa 2005. Arizona is just stumped at the nonsensical reason for Karen's death. That confusion turns to shock when Carina tells her that losing mothers is not a usual thing in her country. What is so wrong with the care of mothers in the United States that their maternal morbidity rate is sky high?
At least Jackson, Meredith, Maggie, and Arizona's entries are selected for the preliminary development round. Unfortunately, Meredith learns from Owen that the she has almost no chance of getting the patent she needs for her project. Worse yet, Alex and Amelia's idea does not get selected, which means they cannot help their patient who is in imminent need of this revolutionary procedure.
Whose project seems the most applicable, realistic, and revolutionary?
Grey's Anatomy Season 14 Episode 12 Review: "Harder, Better, Faster, Stronger"
Summary
Grey's Anatomy goes into full competition mode for the chance to develop revolutionary surgical projects.