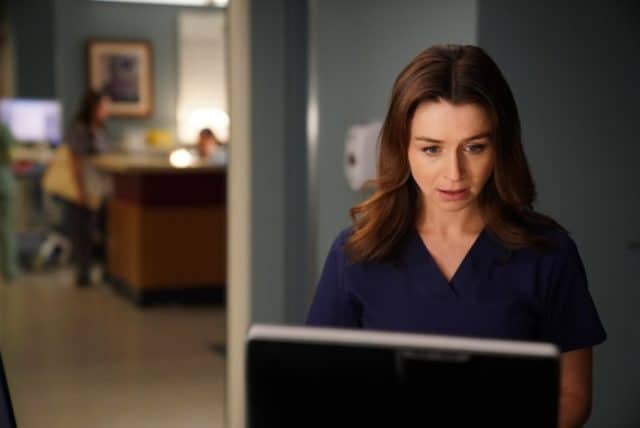 Grey's Anatomy enters its 14th (yes, that is the right number) season without any big explosions or physical disasters, but there are still quite a few fires to put out, and ones beginning to spread. Though we pick up the day after the events of the season finale, it seems like the entire world has changed. Megan Hunt's return from the dead has ripple effects for many of the core characters, not the least of which is that she ushers in the return of fan favorite Teddy Altman. All of the life-changing conversations that come out of this do not mean that it's all seriousness. Quite the contrary! We get the sense that there will be a lot of laughing in the next year, even from the one character who has reason to do everything but laugh.
Much like its patients, the hospital needed to be put back together after the fire. If the construction crew could have heard the comparisons Bailey and Ben were making to their own work space! That's the type of fun that we need more of. Bailey has always epitomized the blend of sassy professional and honest den mother. How could she not? She learned from Dr. Webber, who wants to teach the subpar students Dr. Minnick left behind just as much as he wants to strangle them for their incompetence. Except Bailey has one extra nuisance Webber didn't have-those dang shoes. No, in this day and age, a woman in a position of power does not need to wear heels in order to be taken seriously. Would you rather a surgeon who looked pristine 100% of the time, or someone who was actually at the top of their field? I rest my case.
Jo proves once again that she is, as her patient says, "a freakin' warrior queen". She's a good surgeon, and more importantly, a shark. She steals her place in Megan's surgery right out from under the geeky, naive sub like a pro. If only she didn't have to make the mistake of sleeping with the puppy dog, then vent to her 'new Stephanie', Ben. Ben actually does girl talk quite well, but he really steps up by telling Alex why Jo has kept her distance for so long. Who would have thought that Ben would have been the one to put those two back together? They need to be united, especially if her abusive husband is coming to town.
Meredith remains at the top of her field, and proves she is the consummate professional by taking on Megan Hunt's case. If she didn't tell Megan about her relationship with Nathan after Teddy points out the discourtesy of keeping it quiet, and if Owen and Nathan weren't running around fretting about it, no one would have been able to tell how awkward it was. Approaching Grey's 300th episode, that's one of the points we need to remember about Meredith: she is a surgeon first. The only thing that takes priority over her responsibilities as a surgeon is her responsibilities as a mother. Herein again, Meredith and Megan can relate to each other. Megan needs abdominal surgery not just for her health, but because she needs to be at her best to return to her child, a Syrian refugee who she took in six years prior. It takes some frustration and some innovation, but Meredith does put Megan back together, knowing full well it will mean giving Nathan his future with Megan. Megan turns the tables on all of them when she rejects Nathan, and Meredith either can't understand or won't be second choice, so she just walks away from the situation.
Everyone who isn't taking a page out of Meredith's book should. When something is too painful, stop making it worse for yourself. April realized she had to do that with Jackson, and ended whatever arrangement they had. Teddy told Owen not to throw away their friendship just because his marriage was causing him pain. Arizona didn't mourn Minnick, though taking up with her roommate's sister who is running a Virginia Johnson-esque study at the hospital, could be problematic down the line. Bailey finally got out of those damn shoes! Amelia thought she was on the right track, being a rock star surgeon and cutting the cord on her marriage. But how can she trust that she's alright, when a quarter of her brain is engulfed with a massive tumor? See what I meant about the laughter? Once you find out why you're laughing, it's not so funny.
Is this new direction with Amelia a good explanation for her behavior this year, or just morbidly ironic?
Grey's Anatomy Season 14 Episode 1 & 2 Review: "Break Down The House/Get Off On The Pain"
Summary
Grey's Anatomy began Season 14 with a jaw-dropping last minute revelation that made us question how long the laughter will last.