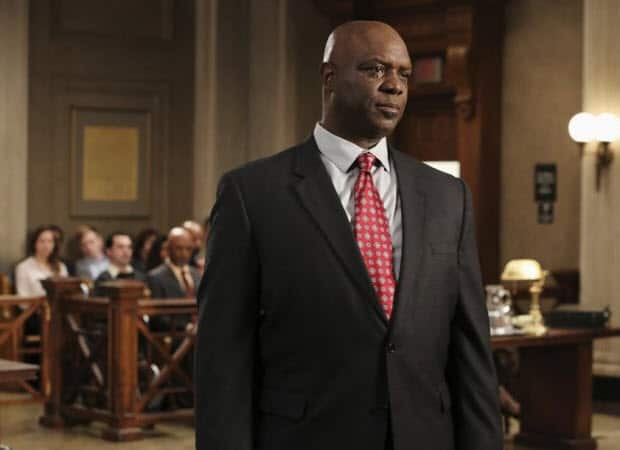 It's been a while since we've seen a Callie centered episode on Grey's Anatomy. Even with the drama of the cheating wife last year, she held nothing but B story lines. Callie is a strong but extremely vulnerable woman, and she makes for incredibly interesting stories. I've loved her since way back when she was dating and married to George (I miss George!). She has had an ungodly amount of ups and downs since then but I have always loved seeing her head held high even when she's sobbing.
So, Callie is being sued. Not something that is completely unheard of but since this is the first we've heard of the case we get a lot of flashbacks. Now, it took me a bit to put a timeline in my head because some of it was slightly screwy. Callie gets a super star snowboarder who needs a hip replacement. He's already had a heart valve replacement, but this time he's hoping to get back to the Olympics. He asks for a very specific type of hip, and Callie admits she has never done one but will research it for him.
This is where I say, he knowingly agreed to a surgery with the knowledge that she had never performed one and was only going off of research. Also not unheard of. But when you are talking about a joint replacement that hasn't even really been done in the US, bumps are bound to come up.
After several different surgeries, one of which Callie knowingly left a sponge in his leg, and one to fix his heart which caused Christina to be involved. Between a heart issue and a replaced hip, this guy really thought he would be an Olympic athlete again? Really!? Well, things escalate quickly and he ends up losing both of his legs. So there goes that idea.
Christina takes the stand and says some off comments because apparently Sandra Oh is going to leave as a hated character. She does actually agree that Callie made the right move, but not before saying some very weird things against Callie.
The moral of the story is Callie is found not guilty, but I honestly did not know what way it was going to go. It was an incredibly tense episode to sit through, sprinkled with flashbacks of a happy Callie and Arizona. Now, as I said the time line got kind of weird, but I believe this takes place after Arizona lost her leg. During these moments, they agree to try having another baby. There are a lot of sweet and tender moments between them which reminded me how good things used to be. However, not surprisingly considering the state of things now, Arizona miscarries which leads to some arguing and miscommunication because Arizona is just tired of losing things. Understandably.
Callie's dad also makes an appearance, and has some harsh yet encouraging words for his daughter. Dispite not agreeing the lesbian relationship he did end up becoming quite supportive and even after finding out that Arizona cheated on her, he still says some heart felt things that leads Callie to Arizona's hotel room. She tells Arizona to take the time and thing, but that she should come home.
Cut to Arizona lying in bed telling Leah she should leave. Oh, crap.
Who know that would come back to bite her? Me! However, by right they are separated so Arizona has the right to do what she wants. It's not pretty but it's understandable. At least we got progress!
[Photo via Danny Feld/ABC]