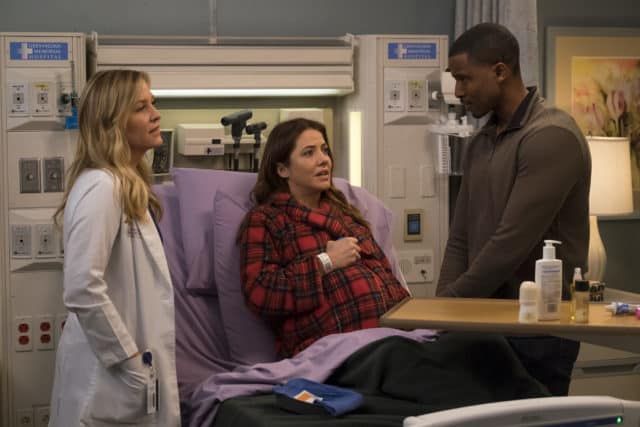 We are now pretty sure of how April Kepner (Sarah Drew) and Arizona Robbins (Jessica Capshaw) will leave Grey's Anatomy. It was actually pretty easy to surmise how Arizona would make her exit, but we haven't had a single hint of how April would be written out. Arizona has legitimate reasons to leave Grey Sloan, because she has a pull elsewhere. April's entire life is exactly where she is. It would take something drastic to change that, and we got our first hint in the promo for next week's episode. Before we say goodbye to these two fabulous female doctors, we need to recap another great episode where female empowerment (and exhaustion) was the topic of the hour.
With Arizona and April leaving, it will be up to Meredith, Jo, Amelia, and Bailey, and Catherine to lead the hospital. Catherine and Bailey have been doing this for years with relative ease, at least in terms of the amount of times they've legitimately questioned their own decisions. Though that ridiculous intern who wanted to sue the hospital really, really tested Bailey's patience. As did the teenage addict Amelia was trying to help. It's a terrible thing when you know how to help, and know that there's nothing you can do.
Meredith has actually been lucky in the fact that she's only ever really competed against other women. By the time she had to compete, her mother had already set out her legacy fighting against a male-dominated profession. The only man Meredith has ever really had to compete against was her husband, and that was as much a personal fight as it was professional. But Meredith was put in an incredibly tough position, having to fight for her mother's legacy, while at the same time changing it to right the wrong Harper Avery did to Marie Cerone. Meredith righted her mother's wrong, but that doesn't mean she has to sacrifice her career, her accomplishments, and her integrity to prop another woman up. Meredith stands on her own merit, and expects others to do the same.
Jo is kind of like this too, which is why her friendship with Meredith has been a really nice development this year. She stands on her own accomplishments, she owns her past, and encourages others to do the same. It's been a defining characteristic of her relationship with Alex. Alex is as defined by his past as his career. That pull to his messed up life is so strong, he didn't know how to react when he went home and found out that his mother was perfectly fine. In fact, she was better. She was thriving for the first time in decades. Though she can't make it to Alex's wedding, mother and son finally don't have to worry about each other. It was a bittersweet reunion, to say the least.
As previously stated, Arizona's exit was easy to figure out. Sophia has been acting out for weeks. Arizona tried to help her daughter adjust, but she had to concede that what was best for Sophia was to go back to New York. Since Arizona won't be separated from her daughter again, it's time for Sophia to have both parents on the same coast. Not that it was an easy decision. It would mean leaving current girlfriend Carina behind. But in the course of talking a pregnant mom (guest star Julie Gonzalo) into surgery, Arizona realized that only her daughter's needs mattered. When you're a mom, it doesn't matter how afraid you are for your life and your happiness. Your child's well-being comes first.
This is why it was hard to believe in any possibility where April would leave Seattle like Arizona. April's life is in Seattle with her daughter and her daughter's father. There's no way April would try to take Harriet away if she chose to go somewhere else. Unfortunately, the only way April would leave is if she was forced to. If we're to believe the promo video for next week's episode, April may not survive much longer to make that choice for herself.
Do the exit strategies for April and Arizona make sense? Are they a disservice to the characters and the actresses? You be the judge.