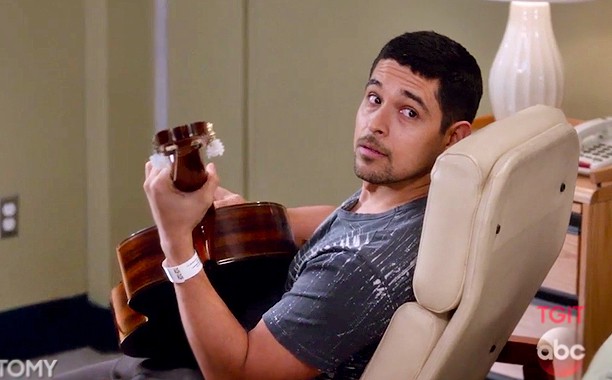 The Grey's Anatomy doctors took the gloves off for their individual battles, which left some more hurt than others. Never fear, there's still Wilmer Valderrama's endearing character to look forward to!
Now that Amelia has moved back in with her sisters, Maggie is on edge to the point of overreacting. She spends the whole episode waiting for some small argument between Meredith and Amelia to start the dominoes falling. Maggie tries to throw another dinner party, keep things as perfect as can be at home. Maggie hyper-focuses on the little things too much. Amelia and Meredith are going to fight, because that's what sisters do. They've managed to repair their friendship from a very dark place. So long as they are honest and don't let their feelings fester, they are going to be fine.
The great Riggs vs. Owen boxing match continues. Meredith thinks that Owen really needs to get it together since his behavior is starting to affect his job. Owen tells Meredith, and informs Riggs, of the real reason that Owen can never forgive Riggs. It turns out that in the story where Riggs let Owen's sister get on a plane that disappeared without a trace, he left out the part where he was actually cheating on Megan right before she got on that plane. Owen really doesn't need a reason to throw angry looks at Riggs every second of the day.
The residents run around trying to prove that they are worthy of an upcoming grant. Jo and Stephanie take initiative while Penny prefers to wait another year to apply for the research grant, since it means she would have to spend a year away from Grey Sloan and Callie. Penny's just happy to learn, especially on Amelia's service, which would have been unthinkable six months ago. Stephanie is frustrated that Penny is monopolizing Amelia's time, which Stephanie would prefer be hers so that she could get Amelia's recommendation for the grant. After Stephanie says some hurtful things about Penny's abilities, Penny decides to go ahead and apply for the grant at the last minute, which she actually gets. This alienates Jo and Stephanie who think she did this as a power play. As a result Stephanie acts completely inappropriate by accusing Amelia of being disloyal.
Wilmer Valderrama guest stars this week as Kyle Diaz, a flirtatious MS patient who asks the question we've all wanted to ask for years: "Why are all the doctors in this hospital so hot?". Despite undergoing a risky brain surgery which he is to be awake for, Kyle spends the majority of his time in the episode flirting with Stephanie. Given the bad day Stephanie has had, by the end of it she doesn't mind being flattered by a grateful patient.
April and Arizona treat a pregnant 14-year old who comes into the ER with stomach pain. She hasn't been receiving any prenatal care and hasn't yet told her mother that she is pregnant. April struggles with not being able to tell the girl's mother she is pregnant so that she can receive proper care. It may sound hypocritical for Arizona to advocate for not revealing this information, but this case and April's case are completely different. By law they are not allowed to tell their patient's mother about the pregnancy. Obviously the same could be argued for when Arizona told Jackson, but that situation had gone on for too long without a valid argument for keeping Jackson in the dark any longer. Nevertheless April's motherly instincts get the better of her and she informs her patient's mother that her daughter is pregnant, right before she has to go into emergency surgery for a spleenic aneurysm. In the end all this back and forth about who had what right to do something doesn't matter. There is a child about to be born, and he or she has to be the priority.
Catherine is an A-class meddler, but this time she's gone way too far. Once she found out that April lied to Jackson about being pregnant with his child, Catherine went into full-blown Mama Bear mode. She insists that Jackson hire a lawyer to prove April committed fraud, and use this to get full custody of the baby. Jackson refuses his mother's help, insisting on handling things with April as amicably as possible for the sake of their child. Catherine explains to Webber that when she and her first husband got divorced, he tried to take Jackson away from her and she had to fight tooth and nail to get him back. She will never stop fighting for her son, even if she's fighting a battle she has no business being in the middle of. Webber was completely justified in calling her out on her behavior (on a side note, it is great to see a couple have a healthy argument without it being a huge complication for the relationship). Unfortunately April overhears one of their arguments. She confides to Arizona about what she heard and the steps she took to protect herself. Jackson is served with a restraining order just as April comes home to see a fully assembled crib in her living room as a peace offering from him.
Whose fight had the most powerful impact?
Grey's Anatomy Season 12 Episode 17 Review: "I Wear The Face"
Summary
The Grey's Anatomy doctors know how to pick a fight, but they haven't yet mastered being able to pick their battles.