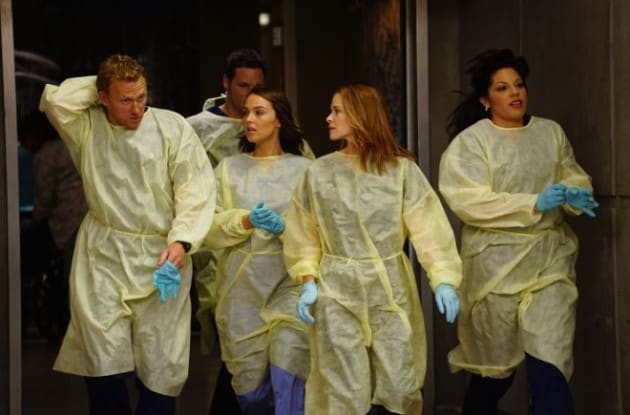 With the 2014-15 TV season coming to a close, TVOvermind is taking a closer look and reviewing the most recent seasons of some of network TV's biggest shows. We last examined The CW's "iZombie." Next up: ABC's "Grey's Anatomy."
With 11 seasons on the air, it is not rare for a show like Grey's Anatomy to become a little bit of a revolving door when it comes to its cast. In fact, that is the norm: actors come and go, and characters die, move away, get jobs elsewhere, or simply disappear with no explanation whatsoever. There are no other ways to handle an exit. Sometimes there is buzz, sometimes there isn't. It can be a bold move or a lame one, but without exception, the audience mourns the loss of the character and adjusts, or stops tuning in completely. When it comes to Grey's Anatomy, viewers have gone through every single stage of the character grieving process, except maybe for the departure of Dr. Erica Hahn (played by the über talented Brooke Smith), which made zero sense, and Melissa George's character, Sadie, an exit that barely registered. On the opposite end of the spectrum, Lexie and Mark's deaths, and the whole plane crash arc in general, remains, to this day, some of the show's most heart-wrenching moments.
No matter how used to being devastated the show has made us, this season of Grey's Anatomy was a brutal one as it started with one loss and closed with another. The Shonda Rhimes medical drama opened the season with the titanic task of having to find a new balance amidst Sandra Oh leaving the series. I will not sugarcoat it: a Grey's Anatomy without Yang, to me, sounded like decaf coffee. Cristina was the Yang to Meredith's Yin (pun intended). She was also vital to the hospital, and to save this piece from being redundant I will not go further to examine the tour de force that Oh's performances were in all of her episodes. To be succinct, I couldn't see the drama recovering from that one departure, therefore, the thought of losing Patrick Dempsey's Derek never crossed my mind. However, as we know, the almighty, too-good-to-be-true surgeon, husband, and father was killed.
Originally, I thought "Okay, great writers, you REALLY hate Meredith. You killed her dog, her mother, step mom and sister, had her miscarry, lose friends left and right, including Cristina, and now Derek is dead." What is there ahead for her? She has her children, her job, and her friends, but there will have to be a reboot of sorts, which has the potential to either be spectacular or a failure. The time jump the show had, however, could aid towards speedier and more credible change, although I have to say that time elapsing was not the wisest of ideas. After so many years loyally watching the show and following every up and down moment for MerDer, I couldn't help to feel that the audience, as a whole, was robbed of their mourning period. If there was a journey to definitely join Meredith on, wasn't it losing the love of her life? Personally, I would have rather see the character fall, suffer, deal, regroup, get up, and not run. I appreciated the parallels draw between her and her mother, and yet, I don't believe closure was fully achieved. I guess we can all find some solace in the fact that Derek died like a hero.
Moving on, this was not only the season of the losses but was also definitely the "season of the sisters," as Amelia gained considerable traction as a character, while Maggie Pierce, Meredith's half sister (the fruit of Richard and Ellis' affair), was introduced. The backstory of "the other Shepherd" was delved into with efficiency, though it had more resonance with those of us who watched Grey's Anatomy's spin- off, Private Practice. That stated, Amelia's insertion into Grey-Sloane Memorial worked on several different levels: she took Derek's former job, which made for entertaining and rich sibling rivalry while reintroducing Amelia (who most of us already loved) as opposed to just bringing in someone new, and McDreamy's sister also became Owen's new love interest. Basically, Caterina Scorsone's character is now covering part of Cristina's and part of Derek's place, yet she does not compete with their memories because Amelia is already a fleshed out character that has distanced herself from the other two. On the other hand, Maggie was given Cristina's job, and she is the "surprise sister," so in a way she is competing against Cristina's legacy AND Lexie's ghost. In Amelia's case, her arc flowed more or less organically; in Maggie's, the jury is still out.
An element of the medical drama that has been prevalent throughout the show's run is the romantic relationships, and in that aspect, Season 11, naturally had quite a few shake-ups. Callie and Arizona are done for the moment, which was excruciating to watch, Alex and Jo struggled (partially because Meredith) yet they survived and seem to be equipped to sustain a mature relationship, Richard finally married Katherine, Bailey and Ben are still going strong, and continue to be one of the healthiest couples in the history of the show, while Jackson and April's marriage collapsed after the death of their child, and Owen and Amelia bonded, but things seem to be up in the air.
When it comes to the pairings, I would like to highlight just a few relevant facts: Bailey and Ben's is one of the most balanced, yet on occasion it feels underdeveloped, especially because we don't know all that much about him. Additionally, in my humble opinion, Jackson and April's arc, needed more follow up and the time jump hurt that storyline as well. The transition to getting better emotionally and distancing from one another was not progressive, which proved to be harsh on the audience. Moreover, Derek and Meredith spent time apart this season while he was working as a pioneer for the White House which led to uncertainty regarding the future, while for a hot millisecond,the illusion of possible infidelity came to be. At the end, Derek chose to stay with his family, which didn't last.
Personally, I felt that the arc of Derek in DC didn't provide any kind of pay off while the possibility of him having an affair didn't add much except for a distraction. I would have rather seen Dempsey's remaining air time being shared we the rest of the cast. Last but not least, I know that the opinion is divided here but Amelia and Owen are two characters who have suffered losses that go beyond words; who have experienced tragedies, nightmares and traumas that act as serious baggage. I view them as the perfect storm that, has the potential to bring a double rainbow at times. That said, it is about time that each of them have a constant, and the chemistry between the two is selling it for me.
Against my original prediction, Season 11 did work around the loss of Cristina, but it was AROUND. I am not quiet sure it was THROUGH it. Though enjoyable, the show suffered ADD at times. In particular, Grey's Anatomy provided Geena Davis with an arc that, in a way, hijacked a major portion of the season. That said, if the last fraction of the finale is indication of anything, while everyone dances things out, Grey's might regain its focus, which should be on Meredith.
Biggest miss of the season: We all understand that contracts are complicated, yet Cristina, Addison, and the rest of the Shepherds' absences at the funeral left a bad taste.
Biggest hit of the season: It's a tie. Steph's growth was a breath of fresh air. Not only she seized to be pitied after Jackson left her, but also, the character excelled as a doctor and a mentor. As a cherry on top, she even declined an offer her former almost mother-in-law made her. The development of this character was as welcomed as it was unexpected, and Jerrika Hinton killed it.
[Photo via ABC]
Tell us what's wrong with this post? How could we improve it? :)
Let us improve this post!