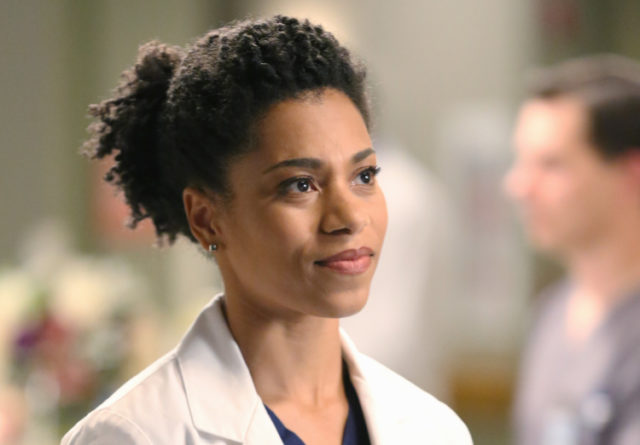 If you were looking for the gut punch of the season on Grey's Anatomy, I'm sorry to say the "Japril the Sequel" episode was not it. Not that that wasn't a truly wonderful, introspective hour for Jackson Avery, but it had more satisfactory closure. The all too real tear-worthy moments were waiting in Ellen Pompeo's directorial debut, which was a Tour de Force for Kelly McCreary. She delivered an unforgettable, raw performance as Maggie Pierce came to terms with the struggle, despair, and even beauty that comes with dying.
Maggie's adoptive mother Diane has been sick for some time now, but only just told her daughter the truth about her illness. Doctors make the worst patients, but they also make the worst families of patients. Maggie's brilliance gets ahead of her capacity to see reason, which is why she doesn't listen to Meredith about a clinical trial that has very high risks for Diane. The sister Maggie was hoping to depend on through this process is the one she fires for not sharing her opinions on treatment plans.
Maggie gets her stubbornness from her mother, as Webber cannot get through to Diane either. This is a woman he has an enormous amount of respect for since she raised his child. As much as Webber would love for Maggie to lean on him as a parent, they just don't have that kind of relationship. Maggie needs the parents she was raised with, the people she depended on her whole life. Because Diane loves her daughter so much, she's willing to put herself through a dangerous clinical trial so that Maggie will know she did everything she could. This is the purest form of a mother suffering for her child.
Just because Maggie pushes Meredith pushes her sister away, doesn't mean she's going to go. Meredith does everything she can to be there for Maggie even though she is no longer officially on Diane's case anymore. She puts off any plans with Riggs because her sister needs her, but the bad timing makes me think they might never get this right. That's something we'll talk about later. Meredith makes sure they both Diane and Maggie are comfortable at home and in the hospital, makes sure that Maggie doesn't have to ask for anything while Diane is going through treatment, and most importantly, gives Diane the conversation she needs to feel alive. This includes laughing. There's nothing like laughing to let you know you're alive, and boy does Diane get a kick out of Ellis Grey's final resting place!
Unfortunately, it's the last time Diane really laughs. Her body just can't take any more abuse from the clinical trial, so there's nothing more to be done. Maggie has no choice but to make peace with her mother's imminent death. The whole situation really weighs on Webber as well, because he himself can't do anything to comfort his daughter. So he calls the one person who can, her adoptive father. Webber wasn't really a father to Maggie, but he was to Bailey in a way. The situation with Diane finally forces some forgiveness between Webber and Bailey. It's probably the biggest sigh of relief we've felt all season repairing this core relationship.
There is almost no comfort for Maggie. She sits by her mother's bedside as Diane gives her instructions on how to live her life, which basically amounts to "make mistakes, be a little irresponsible, have more sex". (Personally, I'm hoping for that to happen with Riggs in a torrid moment since it doesn't look like he and Meredith are really going anywhere.) Ellen Pompeo did make some really beautiful creative decisions for her first time directing. It was as if you could see Diane's soul go through the sunlit window as Maggie opened it, and there was something so fulfilling about that last moment of Meredith, Amelia, and Maggie just sitting and eating Diane's last lasagna. Diane was still with them in that moment, and Maggie had her sisters to get through the worst moment in her life.
Was this the best episode of Season 13?
Grey's Anatomy Season 13 Episode 18 Review: "Be Still, My Soul"
Summary
Kelly McCreary gives her most powerful performance in Ellen Pompeo's directorial debut on Grey's Anatomy.