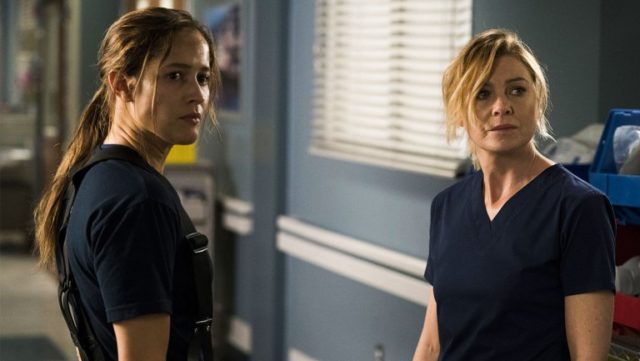 There is a new strong woman coming to headline TGIT, and from the impression she left on Meredith Grey, she's going to fit right in. Firefighter Andy Herrera made her debut on this week's Grey's Anatomy, just a few short weeks before the premiere of ABC's newest Shondaland addition, Station 19. She's strong, smart, and thrives off of high-pressure situations.
Before we get to newest female in Shondaland, we need to talk about April. Jackson was rightfully concerned. Arizona could tout the "she's just having fun" line all she wanted. Even she could not deny how far down the rabbit hole April has gone, once she saw it with her own eyes. It's not necessarily what April is doing that is frightening. It would be a hell of a double standard to judge April for going out drinking and sleeping with an intern. It's nothing her colleagues haven't done. It's not even that she is a mom. Arizona is a mom, and she would never judge her best friend for having fun while her ex has the baby. The issue is that April's behavior is so far out of her normal comfort zone, and she walks around making excuses for this and that. April doesn't have to be the responsible Christian girl we first met. She's been through too much to stick to that. But April has given up on the core of who she is. That is not good.
Once again, Ben and Bailey are the epitome of couple goals. They have such solid support in each other. Unlike Webber, he trusts Bailey to take care of herself on the job. Not that Webber is completely in the wrong. As a sort of father figure to Bailey, he will always feel a little overprotective of her. But Bailey does know better than to push herself, because she knows that could put others in jeopardy. This time it was Bailey's turn to be there for Ben.
Bailey is still creating and innovating, but she's gotten pretty high up on the job. Ben made the decision to go back to the beginning of an entirely new career. He's only now starting to realize what he gave up. But he gave it up for a reason. He wanted a new challenge. He wanted to do a job that, frankly, you can't do past a certain age. The time is now. He just has to mourn the job he gave up too.
As for Andy, the girl is a rock star. She ends up feeling the same high Meredith felt the first time she stepped into an Operating Room. Of course, like Meredith, she pulls the 'hand in the body cavity' trick that puts her in that position in the first place. A few hours later, she helps Meredith get her patent from that tight Spanish doctor. As it turns out, all Meredith needed was a Spanish translator with attitude. Andy is a leader in her own right. While we wouldn't go so far as to call her the firefighter version of Meredith, she comes pretty close.
Stay tuned to see Andy Herrera on Station 19, and see if April will get it together on Grey's Anatomy.
Grey's Anatomy Season 14 Episode 13 Review: "You Really Got A Hold On Me"
Summary
Firefighter Andy Herrera makes her Grey's Anatomy debut weeks ahead of the premiere of Station 19.