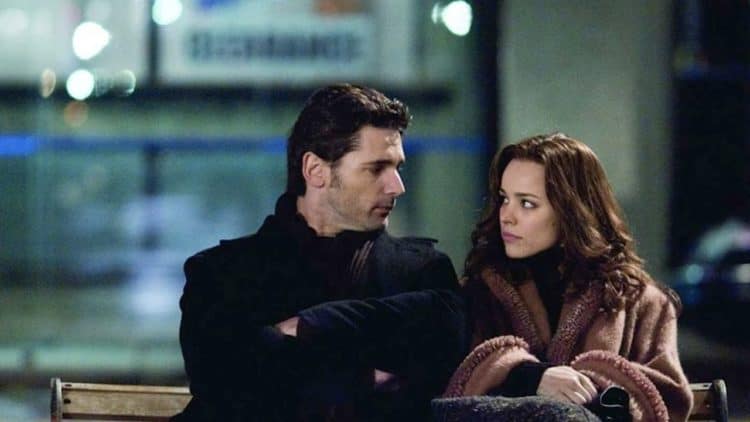 We've all heard the saying "you can't judge a book by its cover", but is it possible to judge a movie by its title? There are a lot of people out there who would argue that the answer is yes. After all, a good title should at least give people a general idea as to what the movie is going to be about. With that being said, any time you see the word "wife" in a movie title, you can bet that whoever the wife is, she's going to play an important role in the movie. Even if she isn't the main character, her presence (or lack thereof) will have a big impact on the storyline. While some of these titles aren't the most creative, they've resulted in some pretty unforgettable movies. Here are 10 great movies with the word "wife" in the title.
1. The Astronaut's Wife
Released in 1999, The Astronaut's Wife stars Johnny Depp as Spencer Armacost, an astronaut, and Charlize Theron as his wife, Jillian. Although the title slightly alludes to romance, The Astronaut's Wife is actually a horror/thriller film. While on a mission, Spencer is involved in an explosion that leaves him and another astronaut seriously injured. About Spencer recovers, it eventually becomes clear to Jillian that he isn't the same person that he was before he went to space. Despite having a superstar cast, The Astronaut's Wife didn't perform very well at the box office. However, it's still a good movie to throw on when you're looking for something to watch.
2. I Think I Love My Wife
I Think I Love My Life is a remake of the 1972 French film, Love in the Afternoon. However, the former takes a much more comedic approach to romance and relationships. Starring Chris Rock as a happily married father, the movie explores what happens when people start to believe that the grass is greener on the other side. In the movie, Chris' character, Richard, finds his fidelity being put to the test when he has a run-in with an old friend named Nikki (Kerry Washington) who ultimately tries to seduce him. The movie is a little on the predictable side, but it has plenty of funny moments that will keep you interested. Even though the movie didn't have the best reviews, it had a great opening weekend.
3. The Preacher's Wife
If you've never seen The Preacher's Wife, it's definitely a movie you'll want to add on to your watch list. With Denzel Washington, Courtney B. Vance, and Whitney Houston in starring roles, The Preacher's Wife tells the story of an inner-city pastor named Henry Biggs (Vance) who is at his wit's end after constantly dealing with struggles and disappointments. On top of the stress of his job, he and his wife's relationship has also faced some challenges. He prays to God for help, and the main upstairs delivers in the form of an earthly angel named Dudley (Washington). As you can imagine, though, Henry is very skeptical when Dudley says that he was sent from God. Throughout the film, however, Dudley does things to help the Biggs family. However, Dudley also finds himself falling in love with Henry's wife, Julia (Houston), who is a talented singer. By the end of the movie, Dudley regains his focus and helps Henry and the rest of the Biggs family get back on track. The Preacher's Wife was nominated for an Academy Award for Original Musical or Comedy Score. However, it lost to Emma which starred Gwyneth Paltrow.
4. The Time Traveler's Wife
Time travel has fascinated human beings for centuries, and the 2009 movie The Time Traveler's Wife explores that fascination in an interesting way. The movie follows a man named Henry DeTamble (Eric Bana) who has a disorder that causes him to randomly travel through time. While this ability is sometimes beneficial it also makes his life complicated, especially when he falls in love with a woman named Clare (Rachel McAdams). Throughout the relationship, Clare has to deal with Henry's frequent disappearances and reappearances. However, despite the odd nature of their relationship, their love is able to withstand the test of time.- literally.
The movie was a huge box office hit even though many of the reviewers were unfavorable. However, those who enjoyed the movie really got into it.
5. The Pilot's Wife
The Pilot's Wife isn't as well known as some of the other films we've talked about, and that's because it was a made-for-TV movie. However, that doesn't mean that it's any less deserving of a spot on this list. The movie is based on a novel of the same name and stars Christine Lahti and Campbell Scott. Christine's character, Kathryn Lyons, is a grieving widow who is struggling to cope with the loss of her husband. However, she eventually realizes that she didn't know her husband as well as she thought and he was actually living a double life.
6. The Perfect Wife
Released in 2001, The Perfect Wife is a thriller that is all about how far people are willing to go in the name of revenge. In the movie, Shannon Sturges plays a woman named Leah Tyman who is out to get the doctor who failed to save her brother's life after he was seriously injured in a car accident. Leah devises a plan to ruin the doctor's life from the inside by creating a false identity and marrying him. She then starts sabotaging his career by killing his patients. The Perfect Wife is a little on the cheesy side, but it's the kind of movie that might just end up becoming a guilty pleasure.
7. Dream Wife
Dream Wife is much older than many of the other movies on this list, so lots of readers may not be familiar with it. But if classic films are your thing, this is one that's worth checking out. The movie was released in 1953 and features two of the decade's biggest stars Cary Grant and Deborah Kerr. According to Dream Wife's IMDB page, the film is about a businessman who "decides to wed a Middle Eastern princess whose customs dictate the pair must live apart for several months before marrying. Even more complications settle in when the tycoon's ex-fiancée is assigned to chaperone the pair." At the time of its release, the movie wasn't a huge success, but it is now widely considered a classic.
8. The Scoundrel's Wife
Known in the United States as The Home Front, The Scoundrel's Wife was released in 2002. The film was set during World War II and follows a woman who is doing her best to raise two children. Life is hard for her, and things only get worse when she is suspected of being a saboteur. The movie never gained widespread attention, but some would consider it a hidden gem. Although Robert Ebert only gave the movie 2.5 stars, he did have some positive things to say about the film. In his review, he wrote, "I like the bayou flavor of this film, and the fact that it grows from a local story that has been retailed, no doubt, over hundreds of bowls of gumbo. I like the quiet dignity O'Neal brings to her guilt-ridden widow, and I like Curry's willingness to make his priest a true eccentric, instead of trying to hunker down into some bayou method performance". He continued, "I like the soft humid beauty of Uta Briesewitz's photography. And if the ending does not convince, well, a lot of family legends do not bear close scrutiny."
9. Another Man's Wife
Another Man's Wife is one of those movies that will remind you that lots of things — and people — aren't exactly as they seem. In the film, a family goes on a weekend getaway to unplug and enjoy each other's company. However, their good time is halted when a local man inserts himself into their lives and threatens to tear the family apart by seducing the wife and causing a rift between her and her husband. Like a few of the other movies we've talked about, Another Man's Wife is somewhat corny, but the suspense is undeniable.
10. The Wife He Met Online
Online dating may be the norm now, but there was once a time when meeting people from the internet was thought to be a little more on the sketchy side. This is something The Wife He Met Online explores through Bryant Meyers (Cameron Mathison) a wealthy businessman who marries a woman he met online almost immediately after seeing her in person. As you can guess, the woman doesn't turn out to be who he thought she was. This may be a Lifetime movie, but it's actually pretty good and you'll probably be pleasantly surprised if you decide to give it a try. Reviewer Trevor Wells wrote, "For the most part, The Wife He Met Online is a very solid film. What could've easily been a bland, by-the-book Lifetime thriller was made into something great by the right cast of people coming together and putting all their effort into making something great. "