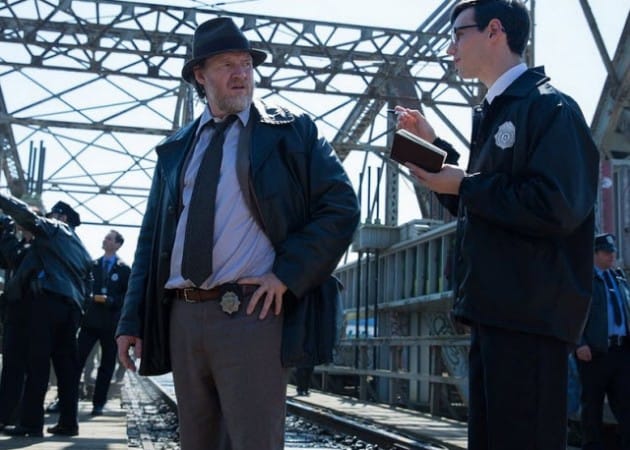 This week's episode of Gotham was slightly stronger than some of the previous episodes as it focused heavily on Donal Logue's Harvey Bullock.
There was a big trailer released for the show a couple of weeks ago and in it we saw a man that was wearing a black mask that looked very similar to Scarecrow's mask so I thought that was who it was. So you can imagine my surprise when we see that it wasn't him after all as in this episode, the villain of the week was the "Spirit of the Goat".
I liked the premise of The Goat that he was going after the first born of Gotham's elite and that it was something that took place at an earlier point in the show and then resurfaced. It was good that this was something would delve more into Bullock as a character because you could tell that it was a nervous case for him. Even though Gordon was with him later in the episode, it was good that most of the time Bullock was by himself because it gave us a chance to get into his head a little bit more. The Goat case was definitely one of the trickier cases that the show has featured so far and it was also one of the creepier ones. I'm not sure how I feel about Dr. Marks having hypnotized two people to become the goat, but it felt like something you would see in a comic book so I will give the show props for that.
We also get a big dose of Edward Nygma instead of just 50 plus seconds this week. I'm not sure what the writers are trying to say about his character when it comes to his behavior. I know that in the comic books, Riddler has most of the times been portrayed as somewhat of a lunatic, but the key is that he is just very intelligent. Right now, they are portraying him as a comic relief character that may seem crazy. The one complaint I have though was the Easter Egg that was the question mark on his cup. I don't mind hints and allusions, but that was overkilling it because we get it, this is The Riddler, we know that because 80% of Nygma's dialogues are always riddles.
The biggest twist was that Montoya and Allen actually found a witness so soon that made them able to arrest Gordon for the "murder" of Oswald. I didn't think they would pull this out so early in the season and I actually thought this would be something they would save for the mid-season finale which would have been more fitting. But regardless, it was a surprise and seeing Gordon giving us so easily when Montoya and Allen arrested him was intriguing. The moments before that when Barbara was trying to get him to run was also good.
Cut to the final moments at the GCPD station was when it all really heated up as everyone learns that MCU has arrested Gordon. As Montoya and Allen also arrests Bullock for being part of the murder of Oswald, he shows up at the station and reveals that he is in fact alive and Bullock tries to lash out on Gordon. I'm mixed about this because even though this was a huge twist and something we knew would happen at some point: I really would have preferred if the arrest of Gordon has happened in the mid-season finale along with Oswald showing up. That would have been a perfect way to end the first run of the season and have it lead up to the mid-season premiere. But we can't always get what we want, right?
Overall, this was a very stellar episode of Gotham and I can't stress how much I want to see next week's episode already.
Gotham airs on Monday nights, 8/7c on FOX.
[Photo via FOX]