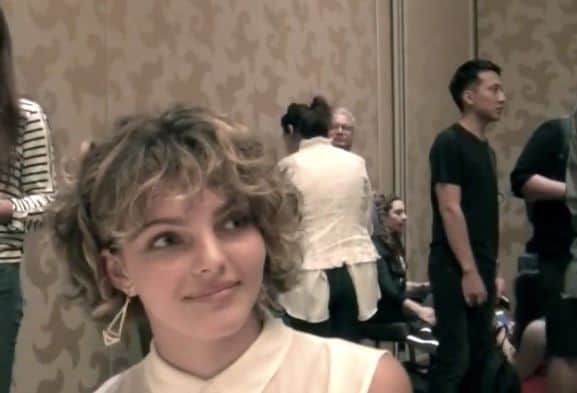 Last season was a big year for Warner Bros. TV and DC Comics as they premiered several new DC TV shows, including FOX's Batman prequel series Gotham, which tells the origin stories of Jim Gordon (played by Ben McKenzie) and of Gotham's most iconic villains before The Dark Knight became the city's protector. One of the most iconic Batman characters in the mythology is Selina Kyle (played by Camren Bicondova on the show) who is also known as the famous Catwoman. In the Gotham world, we get to follow her origin story before she becomes one of the Dark Knight's most complex allies of all time, as she forms her relationship with a young Bruce Wayne (played by David Mazouz).
TVOvermind was fortunate enough to participate in Gotham Press Room at San Diego Comic-Con with other news outlets at roundtables where stars and producers from the show discussed what is coming up in Season 2. Bicondova was one of the people we got to talk to, and you can watch her entire roundtable interview in the video below. Here are some of the highlights:
When asked whether we will see the psychological side of Selina in the second season: "A little bit of both [in terms of seeing Selina's psychological and physical sides]. We are going to be revealing a lot of her backstory that will cause her to try to figure out where she is supposed to be, whether she is supposed to be a bad guy or good guy. With that, I think she is going to be doing a lot of physical things, so I think there will be a mix of both."
How Selina's soul search will affect her relationship with Bruce in Season 2: "It will affect their relationship in an interesting way because she only does bad things for good reasons. For that reason, I don't consider her a villain, but we are definitely going to be exploring how it will affect Bruce and her relationship."
Where we will find Selina at in the first three episodes of the new season, after the events of the season finale: "She is hanging out with some people that you don't expect, especially after the finale. I was really excited to work with the people that I got to work with."
Gotham Season 2 begins on Monday Sept.21, at 8 p.m. on FOX. Stay tuned for more roundtable videos of the cast and producers in the next few days right here at TVOvermind.
[Photo via YouTube]