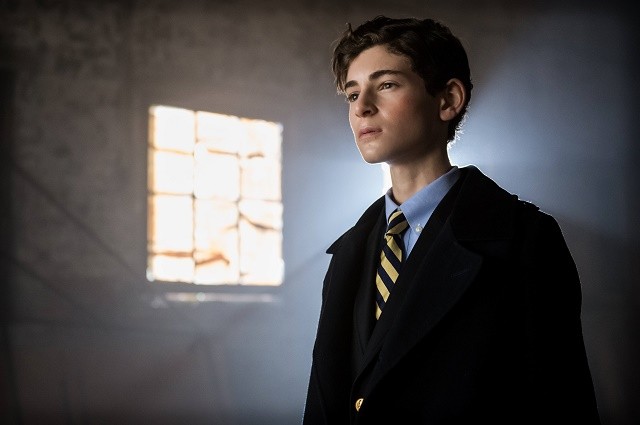 As we get ready for the fall finale of FOX's Gotham, this week's episode stepped up big time as it started to ramp up to next week's events with Bruce getting to the bottom of what the devilish Galavans are up to, while Gordon discovers the Sacred Order of Saint Dumas.
This was a really powerful episode for the character of Bruce Wayne as he finally gets to expose Silver for the fraud that she really is. The whole idea of him hiring fake-kidnappers and orchestrating this kidnapping scenario was so spot-on to what Bruce would have done as an adult in any comic story. It was also refreshing to just see him and Selina finally be on the same page again and work together because those two are just so cute together, while also having a compelling dynamic. Selina's reaction at the end when she learns how Bruce really feels for her was outstanding.
While the Galavans do end up victorious by the end of the episode (more on that later), one of the great scenes in "The Son of Gotham" was when Alfred went up against Tabitha as he was looking for Bruce. It can't even be described how much I kept cheering for Alfred to just take her down over and over again as it's been boring to see Tabitha win every time over the past few weeks. For once, someone was able to go toe-to-toe with her, and who better than Alfred Pennyworth? Hopefully, there will be another round in the coming episode where Tabitha just doesn't lose but also dies.
Gordon didn't have an easy day at all as everything goes wrong in all the worst ways possible. The former mayor ends up messing everything up in court, which gets Theo cleared of the accusations. Gordon also gets introduced to the Sacred Order of Saint Dumas, which doesn't end nicely for him as he gets kidnapped towards the end and beaten badly by Theo. When it was said at the start of this season of Gotham that this would be one complicated and dark year for Gordon, I never imagined it getting this bad, and the worst part of this is that it's probably only going to get rougher for him. But that's what makes for some of the best heroes/villains type of stories.
The episode ends with Theo crashing Wayne Manor as he comes for Bruce and most likely kidnaps him, which sets everything up for next week's big fall finale. While I didn't know that this would be a two-parter, I appreciate that the Gotham writers went in this direction. No matter what happens next week and however it ends, it will feel like a satisfying wrap-up to the first half because we got to spend more than just 42 minutes with this big showdown before Gotham goes off on hiatus until February 2016. Overall, "The Son of Gotham" was a very solid episode from start to finish.
Don't miss the fall finale of Gotham next Monday, Nov. 30, at 8/7c on FOX.
[Photo credit: Jeff Neumann/ FOX]