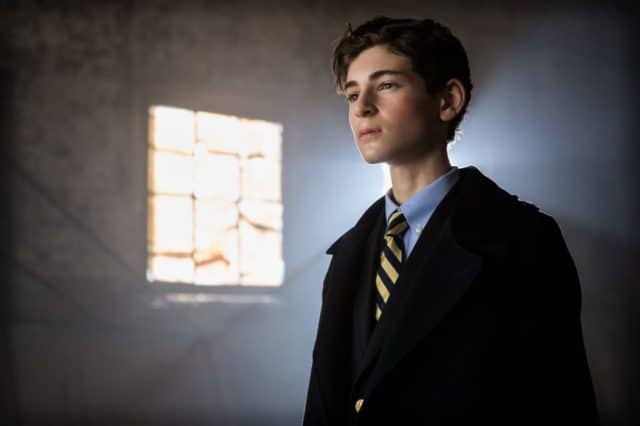 Most fan recognize David Mazouz from his role as the Young Bruce Wayne on the Fox series "Gotham." He is hitting the ground running and off to a very good start in his acting career, and at a young age. He also appeared in another Fox series. He was cast in the role of Jacob Bohm, a mute boy, in the "Touch" series which wasn't brought back for another season. We expect to see a lot more of him in the years to come. For those of you who want to know more about this budding young actor, here are five things you didn't know about David Mazouz.
Family life
David has a sister named Rebecca. He was born in Los Angeles, California. His father (Michael Mazouz) was born in France and his mother (Rachel) is of Greek descent. His name is pronounced "Dah-veed." His family is Sephardic Jewish. This gives you a little insight into his family life and the origins of this future star of tomorrow.
Acting Career
David has studied at Second City. He pursued his interest in musical and sketch improvisation. He got an early start in acting by appearing in commercials at the age of 8. This gave him the acting experience that he needed on his resume to pursue meatier roles in the film industry.
In 2010, he was in an episode of the "Mike & Molly" on CBS and in the TV film "Amish Grace." He also appeared on "The Office" with Steve Carell and as Hudson Rivers in "Dear Dumb Diary. He went on to play Ryan Hall in the series "Criminal Minds" for one episode in 2011. Mazouz received a nomination for Young Artist Award for his role as Jacob Bohm in 2013, which shows that he's definitely getting some well-deserved recognition.
David has an interest in music
David also has an interest in music. His "Touch" co-worker Kiefer Sutherland gave him a guitar for his 11th birthday and he is currently taking lessons. He sings as well as writes music and lyrics. He's working hard to become a well-rounded entertainer with both acting and musical talents to share with his fans.
David is a huge Batman fan
You can imagine how thrilled he was to land the part of young Bruce Wayne in the television series "Gotham." This is a dream come true for any young Batman enthusiast. He's long been a fan of everything Batman and now he can say that he played the actual role.
David Mazouz has a dreaded fear

Even Batman is afraid of something. We've discovered what really triggers David Mazouz. He has a fear of creepies and crawlies. David is afraid of bugs and insects. You won't see a bug collection among his treasures. Now that we've exposed young Batman's dreaded fear, we hope that his enemies won't use it against him.
Final thoughts
David Mazouz is a talented young actor who is pursuing what looks to be a long and successful career. If he stays on his current trajectory, we may be looking at one of the next great actors for the next generation. He's certainly off to a great start. Now you know a little more about him, what he loves and what he fears. We're sure that there will be more news about him in the months and years to come.