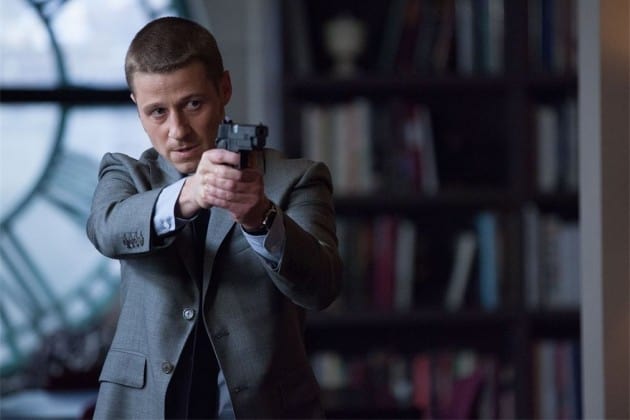 After having some up and downs in the last few weeks, last night's episode of the Batman prequel drama Gotham was one of the best episodes of the season so far as the show stepped up in a lot of ways.
With Penguin having revealed to the GCPD that he was still alive, we see Bullock freaking out on Gordon since he lied about killing Penguin back in the pilot. But not only that, it pretty much puts Gordon in a difficult position with literally everyone. I have looked at Ben McKenzie's portrayal of Jim Gordon as very solid since the pilot, but in this episode he really took a huge step forwards to getting closer to the Gordon that we know from the comic books, TV shows and movies.
I enjoyed the one-man army aspect of "Penguin's Umbrella" as he had to deal with so much on his own and that is essentially what Gordon is to me in the comic books where he doesn't really have the GCPD to rely on. I like how he confronted Butch and that other guy in Barbara's apartment because both of them were just creepy as heck. We see them have some great scenes at the train station as Gordon asks Barbara to leave the city so that she won't get hurt.
Meanwhile, Fish Mooney is freaking out that her snitch is still alive and demands that Falcone gets him from Maroni as well as getting Gordon. Falcone sends one of his top men, Victor Zsasz, and yes, we can confirm that Zsasz is played by the same actor who played The Mist on The Flash in episode 3. I'm not too familiar with Zsasz from the Batman comics that I have read, but from the things that I have seen of him, I liked this take on the character. They feature the famous scars that he does on himself whenever he kills someone and so far, he has killed 28 people.
As Gordon gets seriously injured by Zsasz and his gang, Allen and Montoya arrive in the last minute and save him before it was too late. One of my favorite moments of this episode was seeing Montoya apologize to Gordon for not seeing that he was one of the good guys (and I assume Allen apologized at some point too, off screen). It's good that Gordon have some more allies to rely on now. They pay a visit to Bruce and Alfred where Gordon confesses that he may not be able to keep his promise to Bruce after all and that if something happens to him, Allen and Montoya will take over the case.
Gordon decides to arrest Falcone and Mayor James because of their involvement in the Wayne Murder and a drunken Bullock shows up at his house and offers to help him because at this point, he thinks he has nothing to lose. We see them confront and get the Mayor and Falcone in the same room at Falcone's house where it's revealed that Falcone kidnapped Barbara when she came to him to plead for Gordon. Those were some intense moments and even I wasn't sure what was going to happen. However, because Falcone has a big plan in the making, he decides to let them go, but that isn't the only surprise that Falcone decided to drop on us in this episode.
It's revealed that he and Penguin planned this whole thing all the way back in the pilot and it was even Penguin who was able to get Gordon the mission to kill him, knowing that he would most likely spare his life. I enjoy how connected this arc really is because at first you thought that everything Penguin has been up has just been him trying to find a way to get strong again. But this was a masterful plan and it will, in a way, reset the tone for the show for the rest of the season. Overall, "Penguin's Umbrella" is my favorite episode of Gotham so far. It gave us a serialized format for once that was tied to something from the first episode. If the show can continue to go like this, I think Gotham will become a much stronger show.
Gotham airs on Monday nights, 8/7c on FOX.
Photo via Fox