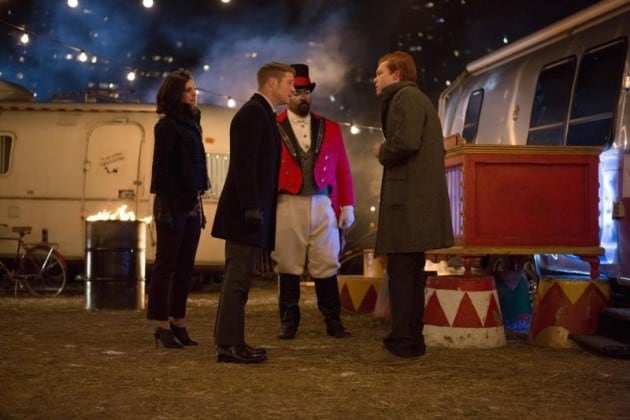 Last night's episode of Gotham continued the freshman show's strong streak since its return from the winter break with the series introducing the most menacing and beloved Batman character of all-time: The Joker, giving us a look at the beginning of his story.
It's hard to go past the remarkable performance that Heath Ledger gave in The Dark Knight before he passed away, but it has been seven years now since we had a live-action version of The Joker. With Jared Leto playing the character in the upcoming Warner Bros. picture Suicide Squad and now Gotham introducing the character as well, it feels both right and good to see that character back on the screen.
While Gotham showrunner Bruno Heller hasn't really answered the question of whether or not Jerome (guest star Cameron Monaghan) is truly The Joker, I personally think this is him and that it would be a great mistake by the show if he was revealed as either The Joker's father or just another possible candidate. So let's go on the presumption that this is him.
Monaghan nailed the performance. It gave me goosebumps and every chilling feeling there is to see the character go from that quiet and shy kid into this menacing and devilish person, who in fact did kill his mother. He was channeling a little bit of Mark Hamill and Heath Ledger's Jokers while at the same time giving something new and fresh.
Monaghan's performance gave me such a kick when seeing it for the first time that I ended up watching this episode twice just to get to that part where he gave his capturing deliver. Hopefully, this won't be the last time this season that we see him, as he perhaps ends up breaking out of jail, because, presumably, that's where he is now. But overall, even though The Joker's origin is more appreciated when it's a mystery, I'm all game for a full on origin story for this version, IF Jerome actually and hopefully ends up being THE Joker for this show.
We also got a brief introduction to Dick Grayson's parents, who I have always wanted to meet…he said sarcastically. I get the point why they got a little intro here because of the circus aspect of it all, as well as this show being a Batman prequel; however, they didn't add anything other than being annoying at first with them coming from two families that hated each other…because of a stolen horse. But hey, at least they got together in the end and will live happily ever after till the day they die at the circus and their son becomes a boy wonder.
Can someone explain how Barbara ended up not kicking Selina and Ivy out of her apartment and instead took fashion advice from them? Oh wait I forgot; there is no logic when it comes to this character so we just have to play along. Honestly, it's disappointing that this is the woman that will end up becoming the mother of one of the strongest female superheroes in the DC Universe, when she is so disastrous. However, it was a thrill to see her walking in on Leslie and Gordon making out because it's just that hard to feel for her as a character at all, and none of these sixteen episodes has given me any reason to change my mind about her.
We all knew that Zsasz was a psycho, but talk about taking it to another level! We see him dropping by Penguin's club and letting him know that Falcone isn't happy with how the club is doing since the re-launch. To help him out, he gives him a little gift in the form of a reformed Butch that was tortured so much by Zsasz that he has now become their puppet slave. Despite the fact that he worked for Fish this whole time and was essentially a semi-villain, I loved Butch as a character, so it was quite sad to see what they had done to him. Speaking of Fish, her prison-arc is getting more interesting, but we will see how it all plays out.
Overall, "The Blind Fortune Teller" was another strong episode and while it had a lot of great aspects, it was Monaghan's Jerome and that whole arc that stole the show. The relationship between Leslie and Gordon is something I'm just accepting now, not because they don't have good chemistry, because they do, but it just didn't feel necessary. Bruce's meeting with the Wayne Enterprises Board made me once again fascinated with how deep and powerful David Mazouz is as a performer.
Gotham airs on Monday nights, 8/7c on FOX.
[Photo via FOX]