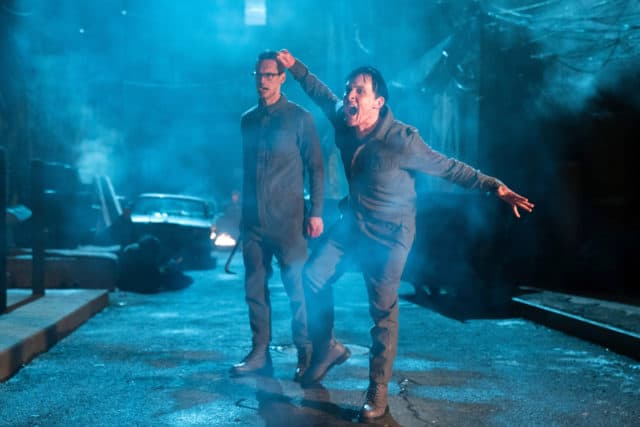 As the season winds down, Gotham has ramped up intensity, and is moving toward a strong finish for its third season leading into its recently announced fourth season. Unlikely partnerships, emotional stories and incredible characters are driving the show toward the finish line. Though I can't wait to see what's going to happen, I will be sad to have a summer without Gotham, as it has become one of my favorites.
This week on Gotham: Penguin and Riddler realize that they must work together to get out of their current predicament, so they reach a temporary truce. Lee speaks with Jervis Tetch about the infection and death of Mario. Selina exposes Bruce's impostor to Alfred, who seeks help from Gordon and Bullock. Captain Barnes, AKA The Executioner, makes an attempt on Jim's life at the Court of Owls' behest. The true reason for Bruce being taken away is revealed.
There have been some head scratching moments for me over the past few Gotham episodes, but nearly all of those came to a head in this episode. Particularly the Court of Owls wanting Bruce to become the city's protector, which as we all know, foreshadows the coming of age into Batman. But now that it's been cleared up, and this Shaman is just yanking him around so that Bruce will bend to his will, it makes a ton more sense. His story has probably been my least favorite of the season so far, but it's been pretty cool to see Bruce learn to fight and lay the groundwork for the Caped Crusader.
This episode had several absolutely masterful scenes, especially Oswald and Ed deciding to work together (and carrying out their plan) and the scene between Lee and Jervis at Arkham. Both of these short scenes are great illustrations about why I love this show. They bring these larger than life characters into emotional scenarios that feel real. The brief Nygmobblepot reunion was a particular masterpiece, and it revives an end of season Gotham trend that I've come to appreciate.
At the end of pretty much every season and half season of Gotham, stories come to a head and characters join forces. In addition to Penguin and the Riddler, Alfred has joined Bullock and Gordon to take down a larger threat. I assume that more alliances will be forged as the villains continue to pile up in the last few episodes of the season.
Here are a few other thoughts:
I'm absolutely terrified of Lee Thompkins becoming a villain. Aside from the fact that I ship her with Gordon, she's already so dangerous that I shudder to think of what will happen next.
I'm just going to say it, because we're all thinking it. They really need to go back to the drawing board with Barnes' "Executioner" costume. It looks fake and terrible.
So, do we think that the battle for Gotham's underworld and the battle for its soul are going to intertwine? I feel like they will.
All in all, I very much enjoyed this episode and I'm more excited than ever for the last few episodes. They're not pulling any punches and I can't wait to see where it leads.
What did you guys think? Did you enjoy the episode? Let us know!
Gotham airs Mondays at 8/7c on FOX