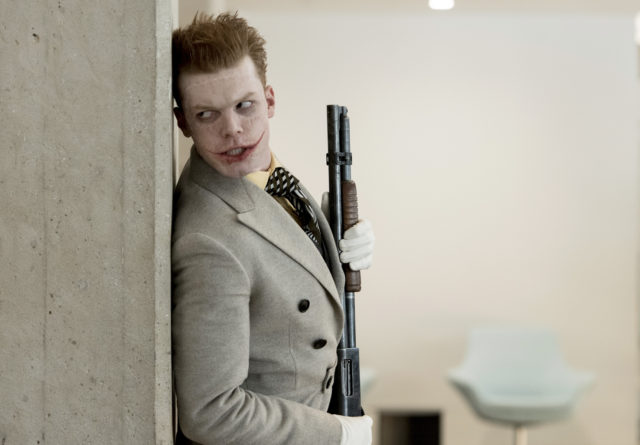 Gotham has given fans lots of questions surrounding the Joker over the years. They insisted that Jerome Valeska would not turn out to be the Joker, then people dismissed that. And Jerome has been behaving very Joker like for most of his appearances on the show. "Mandatory Brunch Meeting", however, suggests that perhaps Jerome's behavior has some genetic components. Turns out that Jerome, to this point, is acting out one very long and drawn out revenge fantasy on his (spoilers) twin brother, Jeremiah!
It's the morning after and I'm still not entirely sure how to feel about this week's Gotham. The story about Jerome and his family drama was compelling, but I'm not entirely sure that it wasn't an entire episode centered on the premise that the producers said these things and that's law. So because they said Jerome wouldn't be the Joker, they created a long-lost Valeska sibling who could also turn out to be completely psychotic. I'm actually quite impressed by the brilliance of it. It's like Cameron Monaghan (who is brilliant in his dual roles, by the way) got a test run as the Joker who isn't the Joker, so now they're letting him play the part with the creation of Jeremiah. Do you see why I'm conflicted? It seems to me that the episode, while enjoyable, was just created as a workaround to previously revealed information, without actually changing the actor or character backstory very much.
Overall, though, the conglomeration of Gotham City's villains was very fun. Mr. Freeze, Mad Hatter, Scarecrow, Jerome, Penguin, Grundy(Butch), and Firefly all came together as one to help Jerome with his revenge fantasy. It seemed like a bit of a stretch at first, but as I've said many times, Gotham is at its absolute best when it leans into the villains and all the insanity that goes along with them. This was a perfect example. I didn't even notice at first that the episode's premise was flimsy because it was so much fun for me to see those characters together.
Though the main story was focused on Jerome and Gotham's underbelly, the Jim and Harvey relationship being back in tact really takes the show to the next level. Donal Logue and Ben McKenzie have such great chemistry, and their partnership and bromance became central to the show. It wasn't a major focus other than them using Bruce to help track down the brothers Valeska, but it gave the episode an additional layer. Their relationship is the backbone of the show.
Here are a few other thoughts:
I'm not sure I understand the Nygma/Thompkins thing at all. He claims she was trying to manipulate him into bringing "Ed" back as opposed to "The Riddler". Was kissing him ever going to help that, though? I just fail to understand what the endgame could possible be.
"USE THE TONGS, CARL!"
I think that Penguin feeling threatened by Jerome means that he and Butch/Grundy are going to be the ones to kill him, just in time for Jeremiah to become the Joker.
As wishy-washy as I've been about the Joker story, I have to admit that the laughing gas reveal was pretty cool for Batman fans.
Overall, I enjoyed this episode, but I'm not sure it would have been necessary if the show didn't have 22 episode seasons.
What did you guys think? Did you enjoy the episode? Let us know!
Gotham airs Thursdays at 8/7c on FOX
Tell us what's wrong with this post? How could we improve it? :)
Let us improve this post!