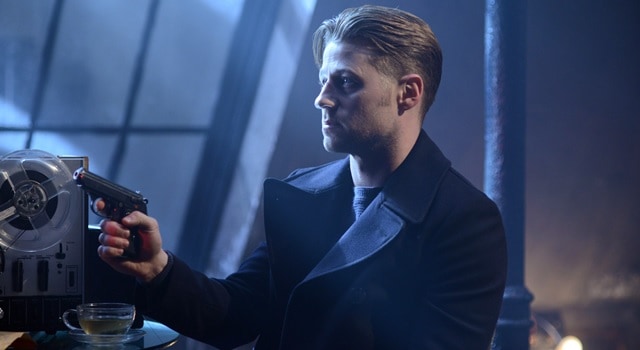 We are entering the last block of episodes for Season 2 of Gotham and things are continuing to pace even faster as Penguin's family situation gets messy while Gordon continues to try and clear his name.
I feel really mixed with this episode because while it's not a weak episode at all as we get some really powerful moments, I feel the pacing is maybe getting a little bit out of hand. In the past few episodes we have seen the writers setting multiple interesting arcs for most of these characters. We finally got to see Penguin meet his father, but who was taken from him just one week after his debut because his wife messed up. Bruce decides to learn more about the "real world" through the guidance of Selina Kyle, which had me really stoked, but that only lasted for two episodes as well. We also saw last time that Gordon was going to begin his battle to clear his name as it felt like the perfect arc for him to get as we are almost done with this season. But just like the other mentioned stories, it wrapped up too fast as well.
Let's start with Penguin's messy week: I was literally just kidding last time when I said that the dynamic between Penguin and Grace as well as the kids had a Cinderella vibe to it. If only I had known that the following episode would pretty much become Gotham's take on the Cinderella story, but with perhaps the darkest twist ever. Is it wrong that I almost want to see a full feature film with a Cinderella inspired story for Penguin, just to see how two full hours would look like? It probably is because the minute he discovered that Grace was responsible for the poison, those kids should have just been smarter and gotten the heck out of there. Although, how did Penguin have THAT much time to not only kill the kids, but also make a meal out of them without Grace noticing? Actually, on second thought, I don't want or need to know.
I love that Cory Michael Smith is getting so much more to do now on the show as the Riddler persona is alive and causing trouble all over the place. However, as I mentioned before, this is also one of the arcs that got slightly rushed. I actually wanted Gordon to have to struggle for at least a little longer with this, if not till the season finale, before he put all the pieces together. It makes the challenges that more compelling to follow and it puts some bigger stakes in the show for the main character. But instead, we get a chilling confrontation between the two which gets Gordon injured, but thanks to the help of Selina, he manages to trick Nygma who at the end gets captured and exposed for what he did. Hopefully Nygma will be out sooner rather than later because I need more of him before the season is over.
The Selina and Bruce relationship pretty much got taken back to square one which irritated me because out of all the dynamics that I love on this show, this is one of my favorite ones. It feels like it just keeps falling apart and is rebuild again before it is destroyed all over again and the cycle just continues. Speaking of destroyed relationships: while it wasn't a surprise, I gasped as Barbara popped up at Gordon's doorstep because you know what this one is capable of — can it be next week already please?
Overall, while I got issues with the pacing of some great storylines that would have kept me focused for several weeks, "Into the Woods" was a solid episode that will hopefully lead into some even more powerful stories in these remaining episodes. Also, have I mentioned how deliciously evil Hugo Strange is? Because he totally is.
Gotham airs on Monday nights, 8/7c on FOX.
[Photo: Fox Broadcasting Co]
Summary
Gordon continues to try and clear his name while Penguin's family situation continues to get messier in this week's Gotham.