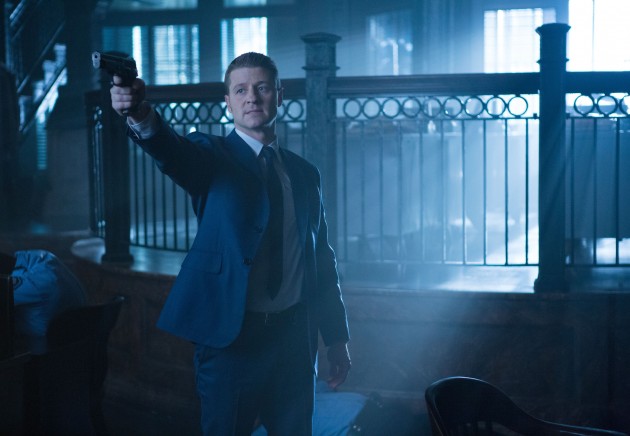 With a title like "What the Little Bird Told Him," last night's episode of Gotham was surprising in more ways than one, it picked up right where the show left off in its previous episode.
As this was part 2 of the "Electrocutioner" arc, I found this installment to be more entertaining and progressive in ways that I had expected the winter premiere to be. Since the last episode, I have been doing some read up on Electrocutioner from the comics and as expected, he hasn't had a very long history in the DC universe. Nonetheless, I enjoyed Christopher Heyerdahl more this time around, although it would have been better to have use this actor for a bigger DC/Batman character down the line. Aside from being able to strike fear every once in a while and a few electrifying booms, there wasn't much to this character.
While there were multiple storylines being played around in this episode, they did have a shared theme which was "power" and having control. We see Gordon having the power struggle with a new famous Batman character, Commissioner Gillian Loeb, as he manages to make a deal of getting reinstated as GCPD if he succeeded in bringing in Gruber within 24 hours. The showdown itself wasn't what I expected, but seeing Gruber being able to mess with Gordon's head was strong though. However, it was pretty laughable that the way Gordon was able to take the villain down was by a glass of water on Gruber's equipment. The cheery on top would have been if Gruber had yelled "I'm melting!" but I'm sure a certain green witch out there wouldn't find it wicked.
The star of this episode was none other than Carmine Falcone, who continues to become one of the show's more compelling characters. Fish decided to make her move in this episode and "kidnapped" Liza as a way to get Falcone to promise her to leave Gotham City as well as hand over leadership of the city to her. One thing that was surprisingly disturbing in this episode was Oswald, and this might be the first time in the entire series so far that I got annoyed by him. It wasn't Robin Lord Taylor's performance that was the issue, but it was how the character was written this time.
Is anyone else getting somewhat tired of the Gotham writers' tendency to have Oswald just be a living punching bag in almost every episode? It seems like every time we see him he either has a black eye or bruises on his face, or just looks completely destroyed, which will help with him becoming the powerful man that he is destined too. However, realistically speaking, how does someone even continue to stand after so many injuries? Regardless, he wasn't someone I enjoyed too much last night, although at least I could tolerate his weak moments compared to Barbara, who had perhaps one of the oddest family scenes of all time.
Even though we saw Oswald tell Falcone about Fish's plan from the beginning, it was still a huge surprise to see that Falcone didn't decide to let Fish "win" for the time being. The show continues to step up episode by episode and the way they ended it with Fish and Butch being taken away by Falcone should/will open up even more interesting doors for the rest of the season. Overall, this was a very strong follow-up episode and a satisfying way to see Gordon return to GCPD, as well as the next step in the Fish and Falcone battle.
Gotham airs on Monday nights, 8/7c on FOX.
[Photo via FOX]