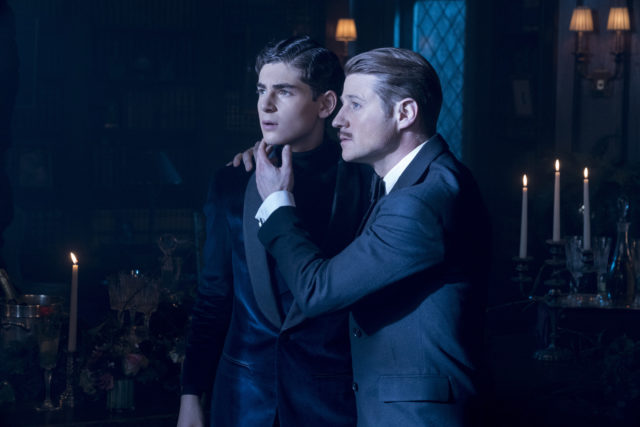 Gotham is almost always at its best when it's being absolutely bonkers. This episode was no exception to that. Most of the episode put Bruce in a weird fever dream brought on by Poison Ivy…well…poisoning him, and led to things like Jim Gordon briefly sporting his infamous mustache. Other things happened in the fever dream that were slightly more important, like Bruce realizing that he needed Alfred in his life. Still, I thought the mustache part was pretty funny so I used a photo of it.
Gotham has been alluding to/expediting the Batman origin story for some time, and this was a pretty large leap forward in that regard. Gordon's descent into his battle with Sofia Falcone illustrates that Gordon isn't the man to save Gotham City, and that they need someone better than him, which will eventually lead to the rise of Batman. Now Poison Ivy is older…again…and the villains of Gotham are coming out of the woodwork and into their own. Slowly but surely, the characters are becoming closer to the ones of Batman lore, and it's quite interesting to watch. I'm starting to wonder about Bruce's fever dream putting Jim and Barbara together, and what significance that will have in the future. Barbara seems pretty tame compared to Jim's other love interests at this point.
I think the highlight, though, was the merging of major villain stories. Penguin and Riddler teaming up previously was one of the better stories that Gotham had done, and now they're alluding to reigniting that partnership, but with the involvement of Jerome Valeska. I don't know if I can call him "the Joker" as of right now, but we all know what's happening there. The relationship between Jerome and Oswald was one of the better parts of the episode, Jerome pushing Oswald to his limits and Oswald finally obliging him by letting the beast free.
Here are a few other thoughts:
It was weird for me to hear Sofia and Lee referred to as "sister-in-law", even though I know in my head that it's true. Just not something I had ever thought about until I saw them together. Maybe Lee will kill a Falcone and understand Jim better?
Poison Ivy's arc is still a bit weird to me. I think Peyton List is fantastic (and finally the right choice for the role), but I don't understand how her story fits into things yet. Since there was a top secret Wayne Enterprise project involved, I imagine that we will found out soon.
I'm hoping that we get Harvey back soon, and in more than a fever dream capacity. Donal Logue is too good for Harvey not to be utilized. He and Jim need to just kiss and make up already.
"Now he pees himself ten times a day and sometimes….poos himself!"
"Fred Astaire, you are not"
Since when is David Mazouz taller than Ben McKenzie? Or was that a camera trick to make him seem older?
Oswald and Jerome were obviously the highlight, but Gotham veered into some wacky territory, which generally works well for the show. Even though I have some problems with it, the show is generally heading in a strong direction and I'm excited to see where it goes.
What did you guys think? Did you enjoy the episode? Let us know!
Gotham airs Thursdays at 8/7c on FOX
Tell us what's wrong with this post? How could we improve it? :)
Let us improve this post!