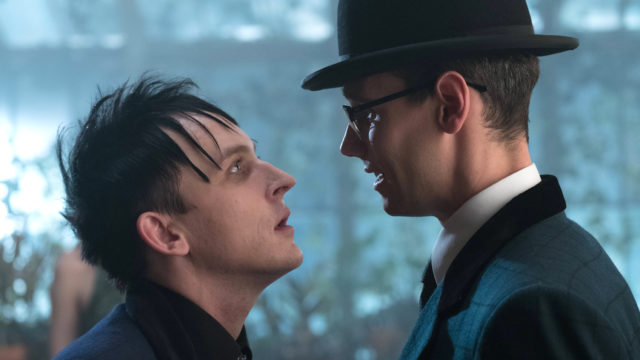 Towards the end of every season of Gotham, the story threads begin to converge and all of the fan favorite characters begin to team up in interesting ways. It's actually extremely comforting to know that Season 3 is no different. My fondness for large-scale character team-ups knows no bounds, which creates much anticipation of the final two episodes of this season.
This week on Gotham: Gordon, Bullock and Alfred search for Bruce. Nygma enlists Butch, Barbara, and Tabitha to fight in his war against Penguin. Brainwashed Bruce is pushed toward Gotham's destruction. Hugo Strange and Fish Mooney resurface. Gordon seeks out Lee, who has injected herself with Tetch's virus.
Gotham functions at its absolute best when it embraces the crazy. When it tries to make too much sense, it ends up convoluted and not quite working. Hugo Strange creating monsters from dead people, a virus that makes people go crazy, and a constantly shifting balance of power in Gotham City's underworld all contribute to the weirdness that makes this show great. Most of Season 3 has leaned into that crazy so far. But for whatever reason, the one wackadoo plot that hasn't worked for me is Lee and Jim's story. The master manipulation by Tetch to separate Lee and Jim was absolutely brilliant, but her hatred of Jim since then has felt a little manufactured. As wacky (and excellent) as the virus story has been, I have to admit that watching Gordon and Lee take the virus and become crazier, though, has been an excellent twist thus far. Morena Baccarin's mean streak has been a particular delight.
The villains of Gotham have long been a strong point of the show, and the stand-off between The Riddler and the Penguin has really been a high point. Each villain they've created has been compelling in their own right, but seeing them come together, pick sides, and start a fight has been particularly exciting. The increasing recklessness of the two most compelling villains on the show has transformed their once blossoming friendship into a bitter, exciting rivalry.
As a Gotham fan from day one, I often long, like Penguin did in the episode, for the days of old. When Maroni and Falcone were rival mob bosses in a burgeoning hot spot for scum and villainy. This particular part of me has been absolutely thrilled when Falcone has made his intermittent return appearances, and this same part of me was absolutely giddy when Fish Mooney returned in this episode. Not only did she retrieve Penguin from Nygma's clutches, but also briefly reunited with Butch, which just made my heart happy. I don't know that there are many shows out there that can make fans of the show care about villain characters, but I do and I'm not ashamed of it.
Here are a few other thoughts:
A stand out performer in this episode: Donal Logue. Harvey is one of my absolute favorite characters, and Logue handles the intersection of crisis with such grace as Captain of the GCPD. The longer Bullock is Captain, the better for this show, I think.
I've been excited by the teases of Bruce becoming Batman, but the pace at which the show is moving toward that happening is starting to alarm me. I'm pretty sure Batman didn't patrol the streets at 15.
I'm all for taking a hard left from the comic books, but I wouldn't be surprised if some steps are taken in the next two episodes to push this world closer to the comic books (like killing off Lee).
Though, previous point in mind, I wouldn't mind a version of this show where Alfred joins up with the GCPD. He does it once a year anyway, so why not make it official and pay him? Besides, Sean Pertwee is a bona-fide bada**.
More than anything, this show got me excited for what's to come in next week's two part finale. They've built the excitement high, so hopefully it explodes properly instead of slowly fizzling out.
What did you guys think? Did you enjoy the episode? Let us know in the comments!
Gotham's two part season finale airs Monday, June 5th at 8/7c on FOX