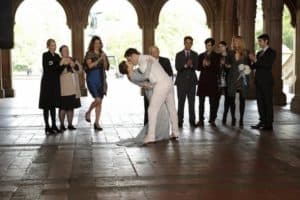 Gossip Girl officially came to an end on The CW tonight. The show that exposed the scandalous life of Manhattan's elite is now no more. But the episode did what it promised to do: expose Gossip Girl's true identity and give us a glimpse into the characters' futures.
Happily Ever After? Chuck and Blair spent most of the episode on the run from the law, as Chuck was declared a "person of interest" in Bart's death. Uncle Jack showed up and offered to help. His suggestion? Chuck and Blair should get married so that Blair couldn't be forced to testify against Chuck about what she saw on the roof. While Blair was eager to marry Chuck – no matter the circumstances – Chuck didn't want their wedding to take place in a courthouse with only Jack looking on. So he and Jack hatched a plan to round up their friends and get the couple married at the Bethesda Fountain. Cyrus performed the ceremony moments before the police came by to take Chuck in for questioning after the group was spotted by some girls who recognized them and turned Chuck in to the police. In the end, the police had no choice but to let Chuck go (without any evidence) and Bart's death was ruled an accident.
Exposed! It turns out that Dan had the secret to identifying Gossip Girl since before the show ever began. The final chapter of his book – which he gave to Nate to publish in The Spectator – exposed the truth. As it turns out, Gossip Girl was none other than…Dan! He figured that if he couldn't buy or fake his way into the world of the Upper East Siders, maybe he could write his way into it. After his first few posts, he started getting tips and it all snowballed from there. When Serena returned from boarding school, he wrote his first post about himself (a.k.a. Lonely Boy). "I might have been a joke, but at least people were talking about me," Dan explained. Rufus was angry about all the poisonous gossip Dan had spread over the years, including about his own sister. Dan retorted that Jenny has known he was Gossip Girl for years and that she orchestrated her own exit from New York City via the website posts. While Blair seemed upset that Dan had a hand in "ruining" their lives for all these years, the rest of the group wasn't too angry. (P.S. Props to the writers for working in Kristen Bell and a slew of former guest stars – including an appearance by Rachel Bilson – into a montage just before Dan was exposed. It was pretty amusing.)
Looking to the Future. "Gossip Girl is dead," Dan declared. And now it was time for all of them to move on. In the final moments, the show flashed forward five years to show us what happened to all of the characters. Nate's Spectator was doing very well and he may have plans to run for Mayor of New York City. Chuck and Blair had a young son (Henry) and were still together. Her fashion career was going strongl and she was gathering all of her friends for a party. Jenny and Eric even returned to help Dan celebrate his wedding to Serena. (Another couple included Georgina and Jack Bass!). And Gossip Girl's voice closed out the show, saying "You may be rid of Dan Humphrey, but you'll never be rid of me. There will always be someone on the outside wanting to get in. Who am I now? That's one secret I'll never tell."
And that, folks, is all she wrote. XOXO.
Tell us what's wrong with this post? How could we improve it? :)
Let us improve this post!