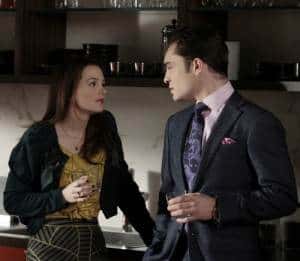 Chuck and Blair scheming again, Dan looking like a chump, and a damn good episode of Gossip Girl? Am I dead and in heaven?
The devious duo of Chuck and Blair reunited for a one night only like event to acheive their latest desires on the Upper East Side, while Serena had to deal with a case of the 'ignorants' involving Dan and Eric over Damian and Ben. The former storyline gets a hell yes, while the latter makes me want to curl up in bed for long winter's nap.
Chuck was close on getting Raina to succumb completely to his charms in order to regain control of Bass Industries by having Raina reconsider her position on the buyout. Blair needed a young, strapping man to get Epperly, her W. supervisor, off of her back at work. Two people in need, a fanbase thirsty for a reunion of sorts. We all came out even in the end.
The scene between Blair and Chuck didn't resonate any sexual tension between the two surprisingly, instead it went and delivered a good conversation between old friends helping each sort out their crises. Another aspect of the scene that caught my eye? They were truly adult about it. Are the GG clique finally getting settled in their grown up duds? It seems so. Wonder how the millions of Chair fans feel about this development.
Did not expect Blair to actually take over Epperly's position, and I can't help but fear for Blair cause I seriously don't think she's ready for the big leagues just yet. The sad thing is that I believe Blair feels the same way, but this new development opens up a plethora of new plot possibilities for the writers to play with. Plus, Blair now has a legitimate set of 'minions' under her belt with this new position. That doesn't mean I'm going to be fond of them being treated as such, but if that's what they want at this point then so be it.
As much as I enjoyed Chuck and Raina's escapades for these last few episodes and seeking Blair's advice on the subject, I found it kind of hard to believe that Chuck didn't know how to pull a girl's heartstrings to get what he wants. He's Chuck Bass, for crying out loud! That trick is second nature to him and doesn't take much effort on his part. Despite Chuck being my inspiration, Raina got my heart last night, because she was an innocent (to an extent) victim in the scheme that turned into a Romeo-Juliet love story of the corporate sector. Luckily, Blair saved this union in the end, but for how long? History might repeat itself when it comes to Chuck chosing business over pleasure, but Raina is no Blair, meaning she could probably bring Chuck to his knees if he does her dirty in the long run.
The whole Serena/Ben/Dan/Eric/Damian thing was just a big "Oh, Who Cares?!" shindig that I couldn't help yawning throughout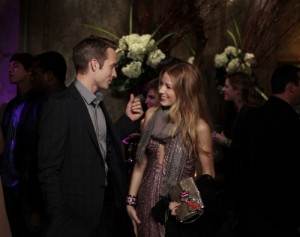 the entire plot. Dan went from a savior last week to his regular role of condescending idiot in a New York Minute. Humphrey would be someone I could only take small doses of if I was his friend. I hate saying that, but hey, what can you do?
Ben is still sketchy and extremely boring, but those traits come with most of Serena's suitors. So I guess they are keeping with tradition in this relationship. What I really don't care for is Ben claiming he wasn't really gunning for Serena when that is a bold-faced lie. He nearly drove Juliet insane trying to mae sure Serena was taken down. Still not buying Ben's about face stance on ruining Serena and I suspect Ben has something drastic up his sleeve in some shape, way, or form.
Despite Dan and Nate disclosing Damian's drug dealing habits to his father, I hope he doesn't get off that easily. He pretty much caused all the drama concerning Serena's return home from boarding school and needs to be dealt with properly. This is the only area where I feel that the UEP clique is slipping in their takedown game.
I would discuss Eric's loneliness, but I kind of don't care really, because he brought it on himself to some extent. He's just another case of what goes around, comes around, which means he's going to have to clean up his own mess. Seriously, why would he even think to hang out with Damian after he whined about how he treated Jenny last year? Insert my eyeroll here.
Great episode last night, with an even better episode coming next week on Valentine's Day, which is kinda like Friday the 13th to me. According to the preview for next week's episode, I will be able to bask in the love bloodbath that is sure to come.
Heads. Will. Roll.
What did you think?