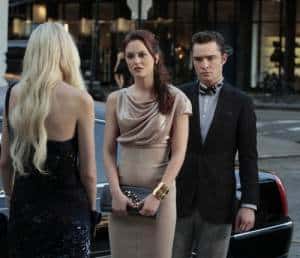 What. The. Hell?!
Last night's Gossip Girl was damn near the last straw for me in dealing with the whole Blair dominating mess. She does not own the Upper East Side. She does not have stake on the city's borders, the docks, or the office of the deeds in the city. She doesn't personally know any people of real power in the city. In short, she does not have the right to say who can and cannot enter any section of New York City or any where else on God's Green Earth.
Down With Minions and High School Politics in College
I know a lot of people hate Jenny. Hell, I wanted to smack her a time or twenty myself, but what happened to her last night was just uncalled for. Blair needs a serious wake up call, as do the writers of Gossip Girl, because if they wanted to keep the group in high school then they should've started them out as freshmen and moved on from there. When Blair walked into the Humphrey-van der Woodson household and gave that so-called reprimand to Jenny, her stock took a serious nosedive and I never wanted to fight a girl so much in my life. That was the first line she crossed. The second line was the damaging of Jenny's dresses, which goes without saying. The third line was buying a ticket for Jenny to leave town. That gesture alone would've been grounds for a good ole fashioned beatdown, because I wish someone would come at me like that and not think that I won't retaliate.
Chuck's hand in everything was just as bad as Blair's, but not as horrible. Chuck only used Jenny as a pawn to unravel Blair's nerves. He correctly stated that he didn't have to do much, Blair 'destroyed' herself and has no one to blame but herself. It's sad that they have come to this level between the two of them, because their whole war is just stupid. Both need to be adults, admit who was wrong in the relationship, and kiss and make up! If that's not going to happen, then they need to go on their merry ways and let bygones be bygones. I give them November Sweeps before they are back in each other's arms in some capacity.
One last thing. I understand where Dan was getting at when he talked to Jenny after she delivered that GG blast, but I disagree with him telling Jenny that she might need to leave again for two reasons: 1) He said it wrong. Instead of saying "Blair's right… maybe you should go back to Hudson", Dan should've told Jenny to go back if she thought needed to go back. Not because of Blair's "banishment". Dan's stock plummeted with me as well when he said that, but not too much. 2) Jenny might've stooped to Chuck and Blair's level, but they both needed that putdown. They needed it like a rabid dog needs to be taken down, because I find it highly hard to believe that people are scared to put Chuck and Blair in their places, especially Blair, who has no diplomacy skills whatsoever. I wonder what Lily would've said if she heard Blair was in her house giving orders earlier that day. I'm sure she would've nipped that in in the bud pretty quickly. I don't kow where Dan's mind was at last night, but he really sounded as if he was really buying into the politics of the Upper East Side last night, which would be a shame if that sentiment is true.
Serena's New Man is Out To Get Her… No, Not Like That.
Just when we think Serena has grown up and is being anti-high school, she ends up (inadvertently, mind you) falling for Colin,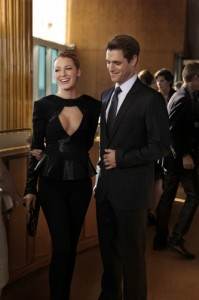 who happens to be her new professor. As soon as I cry to the Gods for this coincidence to have some relevance, I was slapped with one hell of a doozy. Juliet is working for Colin?!?!
After Nate caught Juliet at the prison, I couldn't wait to see how she was going to squirm herself out of that one, but we all know Nate has a box of bricks for a brain, which wouldn't make Juliet have to think hard for a lie. I was kind of shocked of Juliet being ready to confess everything to Nate, but the tables got turned when Colin revealed himself to be Juliet's boss. What connection does he have with Juliet's brother? What could the Upper East Siders have done for the guy to be gunning for their lives from behind bars? How in the world could Ben have been able to send a text from inside of jail? Ai yi yi! My head!
Although, I'm loving Lily's new parenting skills when it comes to Serena. Reverse psychology is the oldest trick in the book. Ask my sister. I use it on her all the time.
Well, with all the ranting aside, tonight was a good episode when you're not watching it behind a red tinted vision. I know people are going to disagree with me, but can we keep the comments civilized, not just to me, but to other commenters as well?