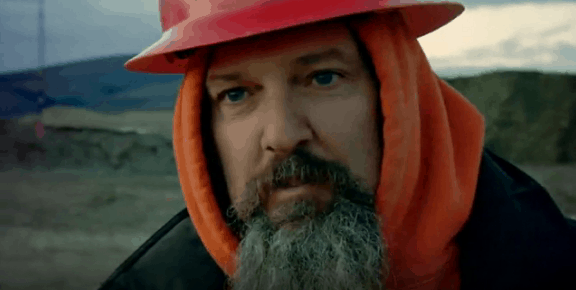 Fans will be treated to two awesome episodes of Gold Rush tonight. One is a season finale and one is a tell all episode of things we never saw on camera. But let's review. Last week on Gold Rush the miners closed out the season and Parker Schnabel was the winner for yet another season. But in tonight's finale his leadership skills are put to the test because his crew has something to say to him. As you'll see in the promo below, there are zero punches being pulled from the get go. What's the first thing we hear? "I gotta double barrel shotgun, coming to Parker."
Yikes! Were his leadership skills that bad this year? As Dave's load is being dumped, there's "double the trouble." A huge block up occurs on the main feed and all hell breaks loose. Screams of "shut this thing off!" and "you've gotta be kidding me!" can be heard around the pit (actually they can be heard around the world).
Someone's convinced that his team is gonna "beat the kid" and they're hoping to get one more nice clean up out of "this thing." One of the best clean ups in a single week results from the hard work, but frankly the cursing might have helped too. Boy does this crew have potty mouth.
And things aren't made any easier due to the fact that there's snow on the ground. But then someone arrives in a helicopter. It's grandpa! Bars of gold are laid out on the table, and more and more cursing ensues. One thing's for certain. It's been an eventful season and the finale will not disappoint.
Check out the preview below:
Also here's an even closer look at the second program Gold Rush: Hard Truth as miners tell all in a special episode.
Everything you didn't see this season, TONIGHT on a special #GoldRushhttps://t.co/CIQZv75i1d

— Gold Rush (@Gold_Rush) March 11, 2016
From telling the cameras to go away, to fights, bickering and talking to the camera, no one holds back. "My crew didn't like me, but Parker sure did." That's easily my favorite quote from this video. What's yours?
Tell us what's wrong with this post? How could we improve it? :)
Let us improve this post!