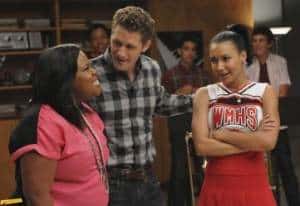 Glee is, quite obviously, the hit show of the year, but above all, I think it's just a feel good show. There hasn't been one single episode that I didn't have a silly smile on my face after watching it. Sure, it presents plots that raise awareness of common issues among teenagers, but the point of the show is to entertain and that it has accomplished so far, with no exceptions.
Tonight's episode 'Duets'felt more like filler to me. Before you come at me with pitchforks in hand screaming bloody murder, that doesn't necessarily mean it was bad. Not at all, actually. But it wasn't mind-blowing awesomeness. It was an okay episode – it advanced the plotlines and it was entertaining.
Mr. Schue came up with a healthy competition for the team. They should all do duets and the winners would get a free dinner at Breadsticks. Everyone is excited and immediately partners up. Rachel, for once, is doing something for the team — and for herself, indirectly — and does everything in her power to make Sam, the new guy, win. He's good and she wants him on the team so they'll make it to Nationals. She goes as far as to do a lousy, offensive performance with Finn, in order to lessen the competition for Sam.
Santana and Mercedes surprisingly become partners and do one hell of a performance. Personally, I thought they should have won. Since Santana left her, Brittany is all alone so she goes after Artie. She seduces him, even has sex with him — taking his virginity — but in the end he realizes it was just a ploy so she could win a free dinner.
Tina convinces Mike to sing and it's just really, really amusing watching him perform. He's not horrible, but he's not the greatest singer either, which is totally cool with everybody. Kurt asks Sam to be his partner, but eventually lets him go after his dad — who is home and recovering — and Finn tell him that a duet with him would ruin Sam's reputation. So that leaves Sam with Quinn, because Puck went to Juvie after crashing his car into a convenience store. That was the best part of the episode for me and I really, really liked Sam and Quinn together. In the end, they win the competition and go out to have dinner. Eventually Quinn says they can consider it their first date. It was sweet.
On a side note, Kurt ended up performing by himself and did an amazing job.
Songs performed on 'Duets'
Don't Go Breaking My Heart: Rachel and Finn.
Happy Days are Here Again/Get Happy: Rachel and Kurt.
Le Jazz Hot: Kurt.
Lucky: Quinn and Sam.
River Deep, Mountain High: Mercedes and Santana.
Sing!: Mike and Tina.
Overall, this episode gets an A-.