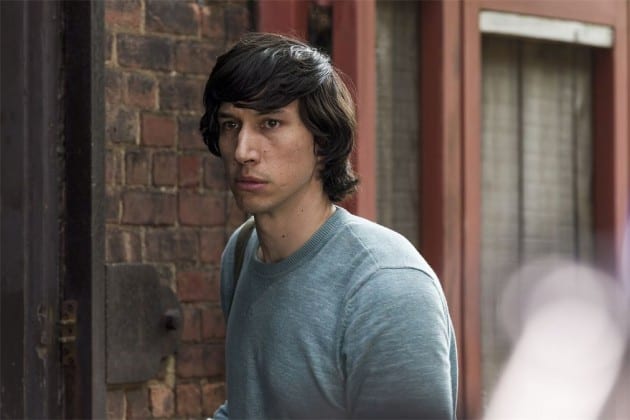 After the heartbreak and devastation that she went through on the previous installment of Girls, "Sit-In," it's time for Hannah to pick up the pieces and move on. The issue is she doesn't have the faintest idea where to start, hence, the episode opens with the sharp contrast of what appears to be Adam and Mimi-Rose's idyllic new life, and a sad Ms. Horvath, who has a meltdown over Elijah eating her cereal. It is interesting that food, as a shared breakfast on a terrace and stolen Cinnamon Crunch, respectively, is used as a symbol. Moreover, sustenance is at the crux of the whole episode.
While Adam and MHR's love is being nourished and Hannah is deprived of her morning junk food, Marnie and Desi feed their own egos by using their own tracks as background music for their love sessions, which ended up being one of the funniest scenes of the episode. They are totally the kind of couple that would do that.
On another food-related note, Shoshanna tanks yet another job interview, this time for a instant soup company. Yet even though she seems doomed to be out of work for eternity and beyond, homegirl does get asked out, and without even blinking, agrees to a date with the person she just judged half to death. In all honesty, that is a train wreck of a date that I cannot wait to see.
Maybe one of the elements of the episode that does lack a bit of strength was the fact that Shoshanna has not figured out until now that her having zero experience presents a problem in the event of looking for a job. Sure, her honesty is hilarious and an obvious parody; however, it is slightly hard to buy that she simply will not accept her reality and that no one has opened her eyes. I am 100% sure Jessa would adore to take a swipe at how green Shosh is when it comes to the working world.
In all fairness, I've met Shashanna's type many times before. Young, inexperienced, privileged, opinionated people, who truly believe going to a college like NYU has pedigreed them instantly, no sweat warranted. And no, they don't know how ridiculous they look. Zosia Mamet does a flawless job at embodying those people. Her character can be as adorable as she can be grating, which is an accomplishment.
In the meantime, back at MHR and Adam's studio/palace, Mimi casually lets out that she had an abortion the day before; this action not only hurts Adam, but it does remind the audience that, after all, Mimi is Jessa's friend, and the two seem to share their nonchalance at the time of delivering critical intel.
It is natural to feel for Adam, who, understandably, feels left out in a decision that, he believes, should have been his, too. However, Mimi's response is one of the best stands I have seen on TV when it comes to such a sensitive matter. I bow down at how the character stands up for herself and her beliefs. Even though Adam's new girl might have been a little too insensitive in the manner she blurted out that she terminated a pregnancy, she doesn't HAVE to share with Adam if she has undergone that procedure before, or how many times. Her past should not be a public matter unless she decides that is what she wants. That said, the way Mimi gets Adam to stay was nicely orchestrated. Fist off, she is honest; she does not NEED him. She wants him to be part of her life, she enjoys what they are building. But she does not NEED him. If that is not a love declaration, I don't know what is. And again, there is a polarity between the dynamic of this relationship and Adam and Hannah's.
After a therapy session with the worst professional in New York state, Hannah has decided that making other people feel good is what she wants, which she announces during dinner (food again!) with the rest of the girls and Elijah. Joining the announcement parade, Marnie complains about Desi, while Shoshanna examines her plan to become soup guy's trophy wife. On their part, Elijah and Jessa do their weekly Hannah takedown. While he calls his roommate out and calls her selfish, Hannah has an epiphany and says maybe she can become a teacher; Jessa, who never misses a beat, tries to mock her with the classic "Those who can, do; those who can't, teach." Either because she is desensitized to Jessa's jabs or because she has stopped processing information, Hannah does not take the comment as offensive. Instead, the episode closes with her heading to a school, where we can assume, she will offer her services.
Even though I would have loved to see more of Jessa's arc development, I believe Girls continues to shine in what thus far has been a consistently well-developed season. Every single storyline explored in "Close-Up" made sense and delivered.
Highlights:
– Desi and Marnie (Darnie? Mesi?) having creative differences was one of my favorite scenes. His character is becoming increasingly irritating, which is something I didn't fathom possible. Hopefully, Marnie will be able to escape his toxicity.
– Ray and his handmade model at the city council meeting. Every second of Ray being there was priceless. From his diorama to his speech, to his dedication and initiative to make a change. He is definitely one of "those who can," and brings the laughter to boot.
– The notion of Hannah reinventing herself once again is very rich and has always panned out. I can't wait to see what comes up next.
[Photo via HBO]