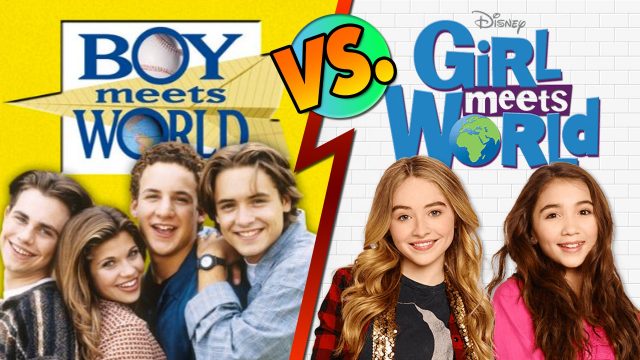 Girl Meets World is the new spinoff of the old favorite sitcom Boy Meets World and in some ways, it is actually better. Although not everyone would agree, just a few episodes are enough to take old fans on a trip down memory lane and continue the amazing story of Cory and Topanga. It's wonderful to watch Corey now in the role of teacher, trying to instruct his students with an open mind. His daughter is in the role as star of the show and she's doing a bang up job.
Perhaps one of the most endearing aspects of this new series is the fact that it is a sequel to Boy Meets World and we all get to see what happened to Cory and Topanga. We don't have to speculate because the new series shows how their lives have unfolded and what they look like now. We even get to see the other old cast members either on this new series as regulars or at least returning for cameo appearances.
Seeing members of the old cast makes it feel like old home week. Many of us who grew up on BMW have very fond memories of the show and seeing the characters today brings on feelings of nostalgia. It's great that Ben Savage and Danielle Fishel are back in their original characters. Their daughter Riley just happens to have a good mix of the two of them and many of the scenes are either similar to or direct contrasts of scenes from BMW, which is really cool for dyed in the wool fans who miss the days of yesteryear.
The focus of Girl Meets World is on the life of Riley Matthews, Cory and Topanga's daughter. It is obvious that the writers had the intention of writing in plenty of content in the scripts to give former BMW watchers little tidbits from the old series and we think that is just one of the elements that make the Girl Meets World series so much better.
Similarities between the two shows
Some of the things that make Girl Meets World so interesting for Boy Meets World fans are the parallels and similarities that the writers have built in to the new version. If you recall the high five that Corey and Tapenga did when they "felt everything," then you'll laugh as you see Farkle and Maya high five and feel "nothing." This contrast takes us back to the moment that was so special for her parents as young people.
Cory thoughtfully instructs his students to "do good." A true fan of BMW would remember than this is what Mr. Feeney used to tell his students. Tapenga made an attempt to correct Feeny, but he said what he meant to say and truly meant what he said. His impression on the young Cory is seen as he tries to do the same for his students. Now Cory fully understands the impact that a good teacher can have on the development of young impressionable minds and he follows some of the same techniques that worked so well for him, compliments of Feeny. It's refreshing to see how well he has turned out and how the original supports the new series so very well. The show takes a lot from the BMW series and this is definitely one of its strengths.
Another similarity happens when Riley is afraid to go out with Lucas on a date. Her buddy Maya asked him out so Riley would gain a little confidence. This is a mirror of what Shawn did for Cory in the BMW series when he asked Topanga on a date. It's almost surreal. These are just a few examples of the things that jog our memories from past scenes on Boy Meets World and there are plenty of others.
New focus
Although there are plenty of reminders of the past, the show does move forward with the life of Riley. Not all of the elements of this show serve to point back to the Boy Meets World series. While it is an obvious reboot, there are also differences that make it interesting in its own right. We think that it will have a greater appeal to girls because the struggles of females making their way through life are highlighted and girls will be able to relate to the character of Riley. Boys will love the series because let's face it, Riley is really cute!
The proof is in the ratings
Girl Meets World is getting some pretty remarkable reviews from the fans that fell in love with BMW. They also enjoy watching the continuation of the lives of Cory and Topanga, with a new focus on their daughter, which seems to be a fitting start for a new chapter in life. Everybody realizes that life goes on and as one chapter ends, another begins. We get to see a new generation go through the same kinds of experiences that we all go through in life and it's especially heart warming when we see little reminders that take us as older fans back to the days of our childhood. Girl Meets World is a new sensation that is drawing in new fans and old ones alike.
Final thoughts
For many, the new Girl Meets World series picks up where the wonderful love story of Cory and Topanga left off. It's showcasing the next generation with the exception that the show is now honing in on the life of a girl instead of a boy. While a few fans insist that there is no improving on the Boy Meets World series of the nineties through the year two thousand, it appears that the majority give the new reboot two thumbs up for being just as good if not a little better than the series that starte this whole thing. If you were a fan of Boy Meets World and you haven't yet watched Girl Meets World, we highly recommend that you at least give it a try. We think that you'll be pleasantly surprised.