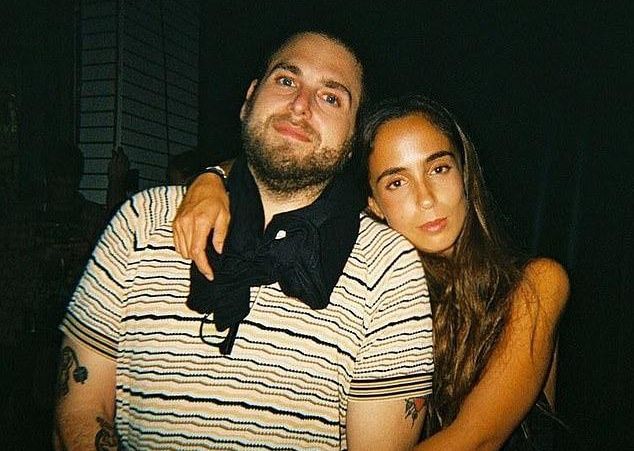 Some people keep their profiles low while others will have all the details about their life detailed out to anyone who cares to know. Gianna Santos is one who prefers keeping a low profile, and she was just an ordinary woman until her engagement went viral. She was born on April 1939 in New York to Ernest Santos and Rita Santos. She was interested in the media and went to school to study media and communication. When she graduated, Gianna went ahead to work in the fashion industry as a stylist. She designs different brands of outfits for her clients and is committed to her work, making sure that she fulfills all their needs. Get to know more about her through the facts below.
1. She is engaged to Jonah Hill
Giana is in a relationship with Jonah Hill, a producer, actor, and comedian from New York. The two were seen in August 2018 in New York having fun together after hiding their relationship for long. According to People, the two were seen headed to New York for breakfast and their photos spread over the media. She has attended several family gatherings of Hill's family, and they celebrated Christmas together. They seem to be planning for their wedding since Jonah has purchased a building worth $6.77 million and are planning to move in together.
2. She appreciates simplicity
Simplicity is a virtue, and as the saying goes, it means elegance. Gianna is one who appreciates simplicity as we can see from her life motto, "Less is more." Her love for simplicity is visible in her work, and Gianna appeals to her audience by not going overboard in her styles
3. She studied at Fordham University
According to her LinkedIn profile, Gianna's education journey started at New York City Lab School that neighbors Chelsea. After completing high school, she went to Fordham University in 2007, where she studied a bachelor's degree in communication and media studies. She graduated from university in 2011.
4. She is a photographer
Photography is an art that seems easy but requires one to train hard to be good at it. Gianna is also a photographer who loves capturing moments in all the places that she visits, as evidenced by one of her blogs. Some of the photos feature only her while some Gianna has captured herself alongside her friends. Each blog post has a different picture with one of them showing a younger and older woman in a restroom. With her love for simplicity and talented styling skills, Gianna assigns each photo a unique theme in the blog.
5. She has worked in various fashion brands
Gianna has worked with prominent companies in the fashion industry, according to her portfolio. The place that she is well known to have worked at is KITH. Apart from KITH, Gianna has also worked with prominent shoe brands such as Converse, Puma, Adidas, and Nike. She has also worked with a Japanese designer in Y-3 brand and Bandier in a women's activewear company. Most of her work in the fashion brands started when she was a stylist where she got the attention of various companies.
6. She produced one music video with her fiancé
Gianna's fiancé directed a music video earlier this year where a singer and a guitarist were in one of the popular destinations in New York. Gianna listed the music video in her portfolio to be something that she worked on despite not being recognized as a member of the production team. By then, she was a stylist and might be she was responsible for the styles that the band used in the music video. Gianna appears briefly when the music video is coming to an end although her work in the video is not credited as seen on YouTube.
7. She loves hip hop music
Gianna is a hip hop fan. She keeps most of her profiles on social media private, but there are a few posts on her Facebook page that show her love for hip hop. Gianna has a post on Facebook that is a picture of many hip hop rappers when they were still young. In addition to the photos of the famous rappers, she shared the music of artists in 2013 from Spotify. The artists include Jay-Z, Rihanna, Lil Wayne, and 50 Cent; a clear indication that she listens to hip hop music.
8. She is intrigued by creative pursuits
As a stylist, Gianna is always in love with creative pursuits in fashion. She appreciates the designs and displays in a style that enhance creativity in them. Gianna writes on her website about her love for all creative art and shares photos on the site of different brands and models. The designs are varied in size, type, and color and Gianna gets endorsement deals from some of the companies that appreciate her creative works.
9. She connects fashion with societal and cultural trends
Gianna appreciates cultural, gender, and societal trends and transforms them into an appealing style. Are revealed on her official website. She has to know more of the client to be sure of what they expect since clients come from different cultures, and have different tastes for fashion. She has to know everything about the client and ensure that they get satisfied with the designs she gives them. The attention to detail facilitates Gianna's ability to have a good relationship with her clients.
10. She keeps most of her life private
Most celebrities share all details of their lives either in social media or through usual communications with people, but Giana is different. Gianna lives a secret life. Matter of fact is most details about her remained a secret until her engagement with her fiancé hit the headlines. While everyone else is exposing themselves on social media, Gianna keeps her Instagram account private. However, you can still get a little information about her on her LinkedIn profile and her official website.
Tell us what's wrong with this post? How could we improve it? :)
Let us improve this post!