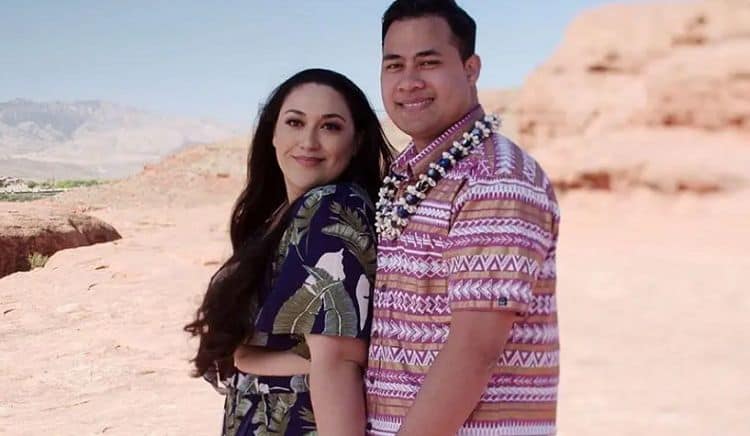 Out of all of the people to appear on 90 Day Fiance, Asuelu Pulaa is easily one of the most lovable. Asuelu joined the cast with his now wife, Kalani Faagata, after the couple met in Asuelu's home country of Samoa. Now a father of two little boys, Asuelu's sweet disposition has won over countless people. Unfortunately though, like many other cast members on the show, Asuelu seems to be in over his head when it comes to dealing with the pressures of raising a family and adapting to a new culture. Although he and Kalani's relationship has had it's fair share of ups and downs, Asuelu seems 100% committed to making it work, and the fans love to see it. Keep reading to learn 10 things you didn't know about Asuelu Pulaa.
1. He Worked At The Resort Where He Met Kalani
Unlike a lot of the couples on 90 Day Fiance, Kalani and Asuelu didn't mean on the internet. They actually met while Kalani was on vacation in Samoa. Asuelu was the the activities director at the resort where Kalani was staying and the two hit it off. Although neither of them were looking for a relationship at the time, after Kalani got pregnant they tried to work things out.
2. He Makes Videos On Cameo
Are you a big Asuelu fan? Okay, let's be real, who doesn't love Asuelu sweet and innocent nature? The good news is that you can now get a customized video from him. You'll have to pay $50, but judging by his 5 star rating on Cameo it seems to be worth the money.
3. He Started His Own YouTube Channel
YouTube has become the place to be for people who love sharing content in video form. Asuelu and Kalani have a couple's channel that has nearly 60,000 subscribers. However, he has also created his own channel where he posts content that gives viewers a glimpse into his culture.
4. He Loves To Dance
Anyone who remembers the scene where Asuelu did a tribal dance to greet Kalani at the airport probably knows how much he loves to express himself through movement. But cultural dances aren't the only ones Asuelu likes to do. He loves to participate in online dance challenges, and let me just say this, he is a savage.
5. His Relationship With His Sister-In-Law Has Improved
Asuelu and his sister-in-law, Kolini, didn't get off to the greatest start. Like other members of Kalani's family, Kolini did not feel like Asuelu was capable of taking care of her sister. Once the baby came, Asuelu and Kolini's relationship got even worse, and it seemed beyond repair. However, the two have worked on things and they're in a much better place.
6. He's On TikTok
Asuelu has built up a pretty big following on Instagram, but that isn't the only place on social media where he has a strong presence. Asuelu also has a TikTok account where he has almost 55,000 followers. If you want to see his best dance moves, his TikTok is the place to be.
7. He's Bilingual
Some viewers are a little hard on Asuelu because of the way he speaks. But the truth is, moving to a new country where you constantly have to speak another language isn't an easy thing to do. Asuelu is fluent in English and Samoan, both of which are national languages in Samoa. He has already helped Kalani learn some of his language and he will likely teach their children as well.
8. He Wants To Have More Kids
At the moment, Kalani and Asuelu have two beautiful sons. If you've tuned into 90 Day Fiance: Happily Ever After, you've probably gotten the feeling that they're already in over their heads. However, despite the fact that having two children is already a lot for the young couple, Asuelu has said that he would definitely like to have more children in the future.
9. He Has A Tattoo On A Very Private Part Of His Body
Tribal tattoos are a big part of Asuelu's culture, and he has several of them. Each of his tattoos has a very specific meaning which he details in an Instagram post in 2019. However, what most people didn't realize is that he appears to have tattoos on his genital area as well.
10. He Likes To Cook
When you're far from home, food can sometimes be the most comforting thing. So it's no surprise that Asuelu likes to get in the kitchen and prepare traditional Samoan dishes that remind him of home. Unfortunately, though, cooking probably isn't something he does very often seeing as how Kalani recently accused him of not carrying his weight around the house.