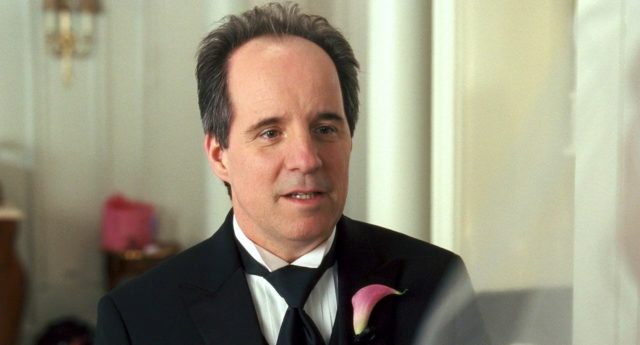 He's definitely a more dramatic actor than a lot of folks and seems to stick to more serious roles than anything. John Pankow has starred in some notable Broadway plays that have gained him a great deal of attention and has worked very hard to establish a noted and well-respected career. He's a well-known name around many circles but around Hollywood he's known for a lot more serious roles than anything and has established himself as a very astute actor and a distinct personality. He wasn't entirely serious about acting until his junior year of college when he dropped out to enroll in the program at St. Nicholas Theater in Chicago. Obviously I won't condone dropping out of school, but it was the right choice in this case.
Here are a few things you might not know about Pankow.
5. He's become interested in acting and directing as of late.
This seems to happen to a lot of actors that spend any time in the industry. Eventually they seem to want to move up and on to better things. Plus being a director at some point seems like a maturation effort for a lot of actors as it shows that they've learned a thing or to during the time in front of the camera, and wish to learn more about what it takes to sit behind it.
4. His older brother is in the recording group Chicago.
So there was fame in the family before John really became known, but his brother James decided to take his talents towards the musical side of the industry rather than pursue anything in theatrics. John dabbled in theater in high school and didn't really get the urge to act until college when he attended The American Buffalo. After that he was hooked.
3. He's the sixth of nine children.
That sounds like a rather large family. There are some that struggle with just one or two kids, but nine kids sounds like a monumental number to take care of. There's no doubt that his family made due since he and his siblings obviously survived, but to even think of having a family that large is kind of hard to imagine since the care and feeding of so many kids is mind-boggling.
2. He's played in a large number of theater productions.
From about 1980 to 2015 his resume of theater productions that he's starred in or been a part of is impressive. He's been so busy on the theater circuit that many people might not really recognize him from his other works that he's contributed to and played a part in. This guy has been busy for quite a while and it's no wonder now why he believes he can direct, it's just as natural step up for him.
1. His movie and TV appearances are also impressive in number.
He hasn't starred on that many TV shows and he's usually been a guest star except for his role on Mad About You. His film credits are fairly impressive but it's definitely his stage production resume that still shines the brightest.
John Pankow is a talented man for certain.
Tell us what's wrong with this post? How could we improve it? :)
Let us improve this post!