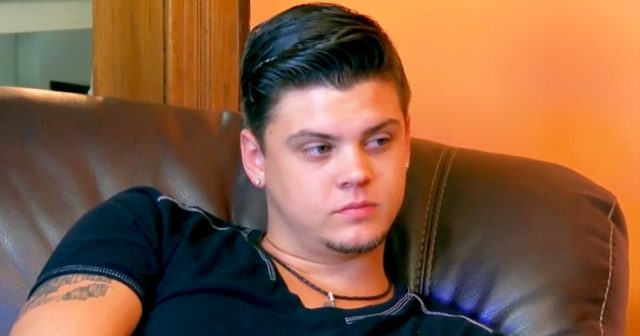 We've literally watched Tyler Baltierra grow up right in front of our eyes. From a teenager on MTV's "16 and Pregnant" struggling to do the right thing and wrestling with the decision to give his unborn daughter up for adoption. To a husband that's in college chasing a degree in psychology. And even though he's lived a good portion of his life in front of cameras on reality TV there's still a lot people don't know about him.
Here are five things that would likely make the list.
He and Catelynn were once heavy drug users.
We've never seen this side of Tyler and Catelynn on screen. They've always come off as smart, responsible, and rational. However a lot of things came to light in their book "Conquering Chaos," one of those things were the couple's heavy drug use. Tyler admits that the two were using cocaine, ecstasy, cough syrup, sleeping pills, and Ritalin. The drug abuse had gotten so bad that Tyler had seizures from it. What stopped them? Catelynn got pregnant with their daughter.
He talked to Stevie Ryan about battling depression before her death.
On July 1st, 2017 YouTube personality Stevie Ryan tragically committed suicide at the age of 33. In a series of tweets, Tyler revealed that he had recently spoken to her about battling depression. It was documented on Teen Mom OG how Tyler's wife Catelynn suffered through postpartum depression after the birth of their daughter Novalee, so he has first hand experience with the ups and downs of being depressed.
He was sexually abused as a child.
Also another revelation from Tyler and Catelynn's book, Tyler revealed that he was sexually abused for hours by one of his older sisters girl friends. It began when his sister left him alone at a house with the older girl… Tyler was only 9 when this happened…
He says the one thing his father taught him about being a father is…
"What NOT to do as a father." Tyler said this in response to a fan on Twitter who wrote to him "It's so amazing to see the kind of father you are even though yours was so in and out of your life." Ouch… That's brutal… But if you know anything about Tyler and his father's relationship then you understand fully. Not only is his father addicted to drugs and had spent his life going in and out of prison, but he also once texted Tyler "I love cocaine more than I love you." Wow… Yea can't fault him for not wanting to follow in his father's footsteps.
The thing that attracted him to his wife was…
"She's got bigger t*** than any other girl in the 7th grade," Tyler writes of the first time he saw his wife in a middle school music class. Umm… How romantic… (#TMI Tyler.)
Conclusion
Tyler Baltierra appears to be growing into a young man that his daughter can be proud of. I really hope he keeps succeeded and achieving his goals. I'm sure we'll all be watching.
Tell us what's wrong with this post? How could we improve it? :)
Let us improve this post!