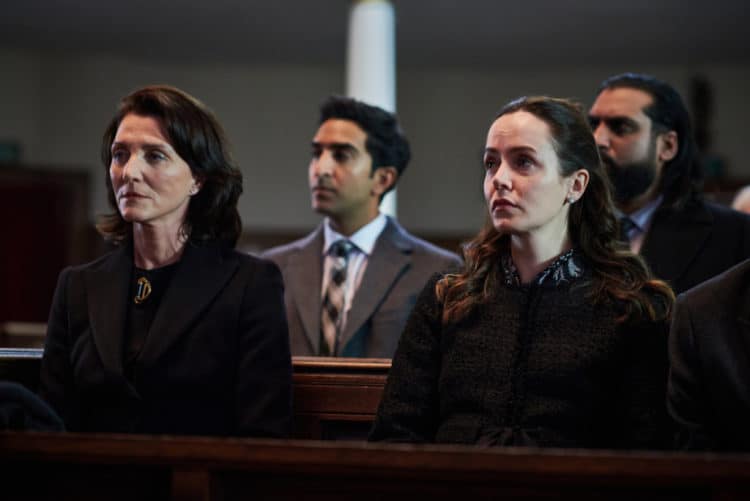 Although Valerie Kane has been a fixture on TV in the United Kingdom for more the last 6 years, she actually began her career quite a while before landing her first big role. She made her on screen debut in 2009 and earned a series of relatively small parts until getting her first big break in 2016. After earning the part of DS Lisa Merchant in the TV mini-series Thirteen, things began to look up for Valene and she hasn't looked back since. She is probably best-known for playing Rose Stagg in the TV series The Fall as well as her role in Gangs of London. With the way things are going for her, there will likely be plenty of other roles that add to her fame. Keep reading for 10 things you didn't know about Valene Kane.
1. She's A Formally Trained Actress
Valene has been involved with acting for more than half of her life at this point. She got her started with the prestigious National Youth Theatre and eventually went on to train at the Central School of Speech and Drama in London. The school has a long list of well-known alumni including Claire Bloom and Carrie Fisher.
2. She's Struggled With Anxiety
We've all been guilty of ignoring out mental health at one time or another, and Valene is no exception. She told the Irish Tatler, ".I had been struggling with anxiety pretty badly probably for ten years. But in a very Irish way I was going 'I'm fine. Maybe I'm just drinking too much. Maybe I'm not sleeping enough." She was able to work on overcoming her anxiety with the help of a book called First, We Make the Beast Beautiful: A New Journey Through Anxiety.
3. She's Always Been A Star Wars Fan
Every actor dreams of getting the chance to work on a project that they've always been a fan of. That dream came true for Valene when she was cast in the 2016 film Rogue One: A Star Wars Story. Not only was it a full circle moment for Valene because she's been a lifelong fan of the franchise, but it was a very pleasant surprise.
4. She's Always Looking For Ways To Improve
Once you've reached a certain level of success it can be very easy to get complacent, but Valene has no plans og getting too comfortable. During her interview with the Irish Tatler she said, "I'm very ambitious. I'm always thinking 'What's next?' 'How can I improve my position, how can I give myself more opportunity?"
5. She Loves Reading Poetry
It's unclear whether or not Valene is a poet herself, but one thing is clear: she's a huge poetry fan. Not only does Valene love reading poetry herself, but she also enjoys sharing her love of poetry with her followers. Valene's Instagram is loaded with images of some of her favorite poems.
6. She Likes Telling Complex Stories
Valene has never been the type of actress whose afraid to roll her sleeves up and take on a challenging role. While talking to the Irish Tatler she said, "I'm very into familial, complicated, dark storiesI just like real life stuff. This is such an epic, but the story is a very human one. I play a very working-class girl who moves to Hollywood. Maybe she wanted to be an actress at some point, but she ended up in a typing pool."
7. She Enjoys Traveling
Valene was born and raised in the UK, but that doesn't mean that she hasn't gotten the chance to experience other parts of the world. Thanks to her career, she has been able to travel far and wide. Some of the countries she's visited include Australia and Italy.
8. She Loves To Exercise
Regular exercise isn't just good for all of the physical benefits it offers, it's also a great way to improve mental health as well. As a result, Valene understands the importance of incorporating exercise into her daily routine. She loves doing things like pilates and going on long walks. She also enjoyed running for many years but as she's gotten older she's learned that her body isn't really a fan of running.
9. She's Won Awards
Winning an award is one of the best ways to have your work appreciated. Most recently, Valene won a Sherman Oaks Film Festival Award in 2019 for Best Actress in a Lead Role for her role in First Person: A Film About Love. Most would agree that Valene hasn't gotten the recognition she deserves, so hopefully more awards are in the future for her.
10. She Has A Deep Appreciation For Art
As an artist herself, it makes sense that Valene also have a deep appreciation for art. She seems particularly drawn to the visual arts such as drawing, painting, and photography. It's very common to see her sharing photos and videos of some of her favorite pieces.