On December 17, 2015, the internet lost its collective mind over their new heartthrob, Oscar Isaac. Isaac, who stars as hotshot pilot Poe Dameron in Star Wars: The Force Awakens, imbued his character with a charm and bravado that nobody expected with as little screentime as he actually got in the movie. People around the globe immediately began scooping up Poe Dameron toys and merchandise, but the person that they were really falling in love with is the actor behind the man.
Star Wars: The Force Awakens was most people's first exposure to the Guatemalan-born Isaac, but, hopefully, it won't be their last. Now that Oscar Isaac has become a household name, let's take a look at five of his best and most memorable performances from before the time when the Force awakened.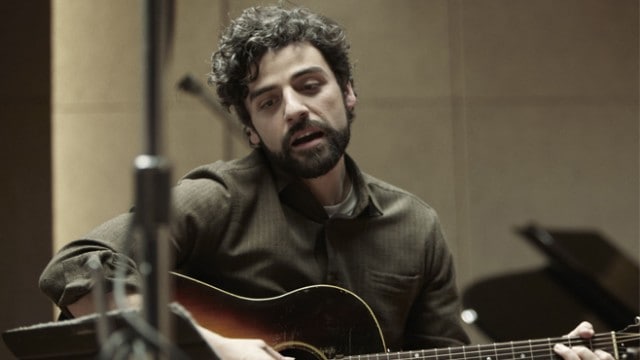 Inside Llewyn Davis (2013)
My first exposure personally to the talent of Oscar Isaac came in the form of Inside Llewyn Davis, a 2013 film written and directed by Joel and Ethan Coen. The Coen Brothers are one of my favorite writing and directing teams, and they usually have pretty good judgement when it comes to casting for their films. I had never heard of Oscar Isaac other than in passing, so I had no idea what to expect when I started up the movie.
Needless to say, I wasn't disappointed.
Inside Llweyn Davis is, like most Coen Brothers films tend to be, a drama/dark comedy hybrid, and it's about a folk singer (played by Isaac) in 1961 New York trying to succeed in music while keeping his personal life in one piece. It's a mostly original story about the fictional character, but parts of the film are inspired by the autobiography of Dave Von Ronk, a real-life folk singer with a similar history. True-to-form, the Coens knew what they were doing by casting Isaac as the titular character of Llewyn Davis as he is able to perfectly capture the raw emotion and personality of the struggling artist. Moments of the film are absolutely heartbreaking, and Isaac completely sells the character to the audience. In addition, Isaac's own musical talents (he played lead guitar and sang vocals for a band while living in Miami) are put to good use as he performs much of the music on the film's soundtrack himself. Isaac was so loved in the role that he earned a Golden Globe nomination for Best Actor.
As a fun bonus, Inside Llewyn Davis features Isaac's Star Wars co-star Adam Driver in a supporting role, so it's fun getting to watch the two of them in a scene together in a completely different context.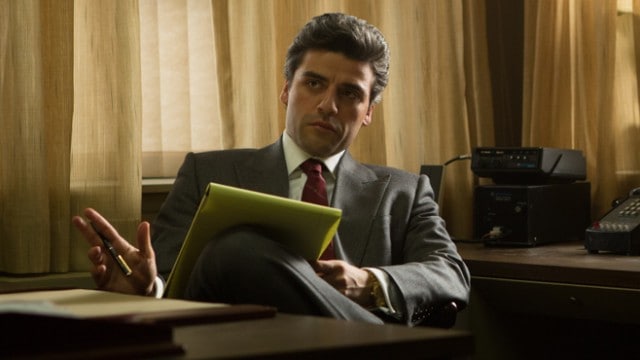 A Most Violent Year (2014)
It isn't a Coen Brothers film, but I wouldn't blame you if you watched A Most Violent Year and thought so. Truly, writer and director J.C. Chandor evokes the spirit of the better-known directors to craft a deliberately paced crime drama very reminiscent in style of the brothers' early work. Starring Oscar Isaac and Jessica Chastain in the lead roles, A Most Violent Year gives Isaac a chance to shine as the up-and-coming owner of a small heating and oil company who comes under investigation for various illegalities while attempting to pull ahead of his competitors with a costly deal. Chastain, as the wife of Isaac's Abel Morales, really gets the bulk of the film's meatier material (she earned a Golden Globe nomination for Best Supporting Actress), but Isaac more than holds his own as a man trying to do "the most right thing." The film is slow, but it's done on purpose and in a way that never feels outside of the genre. You should definitely know what to expect when you sit down to watch A Most Violent Year, but the performances from Isaac, Chastain, and David Oyelowo as Abel Morales' verbal sparring partner should keep you intrigued enough to see why so many critics ranked the film in their top ten lists for 2014.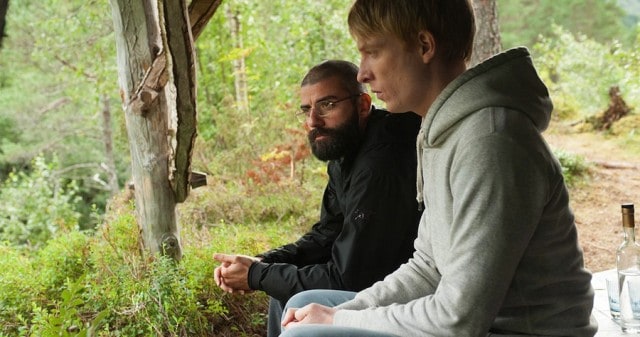 Ex Machina (2015)
How do you follow up a role in a critically acclaimed crime drama? Oscar Isaac did it by co-starring in Ex Machina, a sci-fi psychological thriller that became one of the most critically acclaimed films of 2015. In the movie, Isaac stars as Nathan Bateman, an eccentric billionaire that asks one of his company's employees, played by Isaac's Star Wars co-star Domhnall Gleeson, to stay for a week in his house in order to "test" his robot's artificial intelligence to see if she could pass as a human. As with A Most Violent Year, the bulk of the material in Ex Machina is given to Gleeson and Alicia Vikander, who plays the robot Ava, but Isaac still manages to deliver a solid supporting performance that further showcases his skill at capturing all aspects of the human personality range. In one memorable scene, Isaac and his character's housemaid perform a dance sequence at the most unexpected moment, lightening the mood while furthering a dark agenda that only becomes clear later on. Unlike his characters in the first two films, Nathan Bateman is not at all the character you'll be rooting for in Ex Machina, and Isaac's characterization is perhaps a good indication of what you can expect when he stars as the titular villain of X-Men: Apocalypse this summer.
Show Me a Hero (2015)
Oscar Isaac doesn't have nearly as extensive a career on television as he does on film, but one of the brightest points on his résumé is his turn as Yonkers, New York, mayor Nick Wasicsko in HBO's miniseries Show Me a Hero. A true story, Show Me a Hero tells the story of Wasicsko's term as the youngest big-city mayor in the nation as he becomes embroiled in a controversy surrounding federally mandated public development housing and how the tensions in a white middle-class neighborhood affects the city of Yonkers as a whole. The cast of Show Me a Hero is spectacular, but Isaac's performance in the six-hour miniseries is one of the best on television in a long time. Isaac met with Wasicsko's former wife (portrayed in the miniseries by Carla Quevedo) in order to capture the man in the best and most accurate way, and his effort is clear to anyone who watches his performance. The years portrayed in the miniseries are some of the most tumultuous in the history of race relations in America, and Wasicsko's story is both inspirational and heartbreaking at the same time. Oscar Isaac perfectly captures the emotion and mindset of the former mayor, and his performance was so well-received that it earned him a Golden Globe win for Best Actor in a Miniseries or Television Film.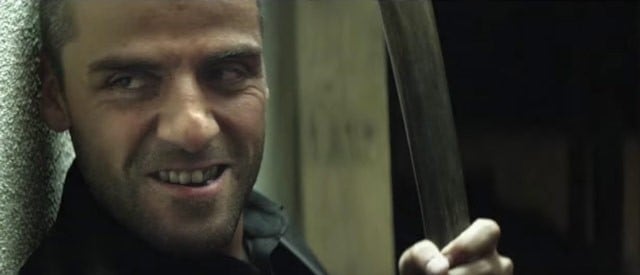 Mojave (2015)
Just barely making the cut, Mojave was released on DirecTV Cinema just weeks before the debut of Star Wars: The Force Awakens in theaters. A relatively unknown crime thriller from writer and director William Monohan (writer of The Departed), Mojave is nothing special, for the most part. The pacing is bad, the writing is all over the place, and the directing leaves much to be desired. The one area in which the movie shines, though, is the performances by the two leads, played by Oscar Isaac and Garrett Hedlund (most famous for his role in On the Road). Somehow, the two actors completely succeed in, essentially, making something from nothing, and Isaac in particular is remarkably fun to watch as a sinister drifter who ends up being more than meets the eye. The cat-and-mouse game is as fun as can be when you consider the unfortunately low quality of the writing (I never want to hear the word "brother" again in my life), but Osccar Isaac's surprisingly memorable performance makes up for how boring the rest of the film is. He also has a monologue during his first appearance that, in any other film, would feature into a submission reel for awards shows.
What are some of your favorite Oscar Isaac roles? What do you think of the ones we chose? Let us know your thoughts in the comments below, and don't miss out on seeing Oscar Isaac star as Apocalypse in X-Men Apocalypse, debuting on May 27.
Tell us what's wrong with this post? How could we improve it? :)
Let us improve this post!