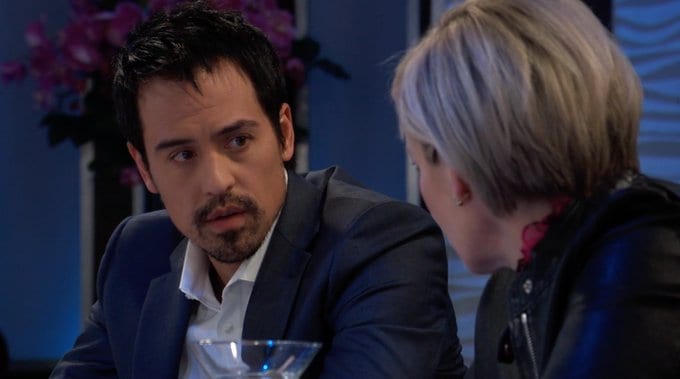 General Hospital fans did not expect to see things with Jordan and Sam go smoothly, and we were not disappointed. We didn't think it would be at all easy for Jordan to have to tell her that she has to back off and stay away from all that is happening, and we didn't see that happen. Sam is not a woman who takes directions well or easily when it's this important to her, and this is what we thought might happen. But, we don't see that Sam is going to back down in the least. There is little to no one out here who is going to stop her, and she knows that. She can be smart about this and agree to it, and then do what she wants from the background if that is what it comes down to. We think that might work out for everyone involved.
On the other side of things, Jason is not about to calm down. He's on high alert, he is wary, and things are taking a very desperate turn for him. He has so much to worry about right now, and he knows that. He knows that things are not turning out the way he wants them to and that things might not change for some time, but he's working on being all right with this. Alexis is a woman who has to do something to change the conversation, and that is precisely what she did. She worked hard to make sure this would work out for her and her family, and she did it with a lot of elegance and a lot of happiness in her mind. She's doing what she has to do, and she's doing it well. She may not be able to change everything, but she did change this, and that did work for her.
What's Happening on General Hospital
Sonny has an offer for Brando that has him uneasy from the jump. What will he be expected to do if he accepts?#GH is all-new and STARTS NOW on ABC! @1SteveBurton #JohnnyWactor pic.twitter.com/vhoKAloZwI

— General Hospital (@GeneralHospital) March 16, 2020
Will this work at all?
What's Next on General Hospital
"You're a good person… that knows how to do bad." #GH pic.twitter.com/SzO441iw9T

— General Hospital (@GeneralHospital) March 16, 2020
Trina is a very unhappy woman. We touched on this a bit last week, and we are still here today. She's a woman who has a lot of issues, and a lot of anger, and a lot of animosity in her life. She is unwell. She is unhappy. She is not living her best life to the best of her abilities. She's got a lot going on, and she is a mess. She's someone who is not going to handle her newfound life very easily, but she is going to find herself in a situation that allows her to find some peace in other surroundings. She's got some issues on her mind, but one of her issues right now is what is happening in other news. She's blaming everyone for all that is going on, and we get it. But, she has to focus on the good in her life no matter how hard that is on her. She's currently just not doing herself any favors, and we think she's aware of that in some capacity. She's a mess, but what will change this right now is nothing. Maxie and Lulu are back at it. They seem to have some big ups and downs anymore, and most of their stuff is down. We think that they have something else going on right now, but they do seem to be very unhappy with the grand scheme of what is going on in their lives right now. It's a bit of a mess, but they are dealing with it the best that they can. It's not a situation that's good.
Stay tuned for more General Hospital and be sure to check out TVOvermind daily for the latest General Hospital spoilers, news, and updates.
Tell us what's wrong with this post? How could we improve it? :)
Let us improve this post!