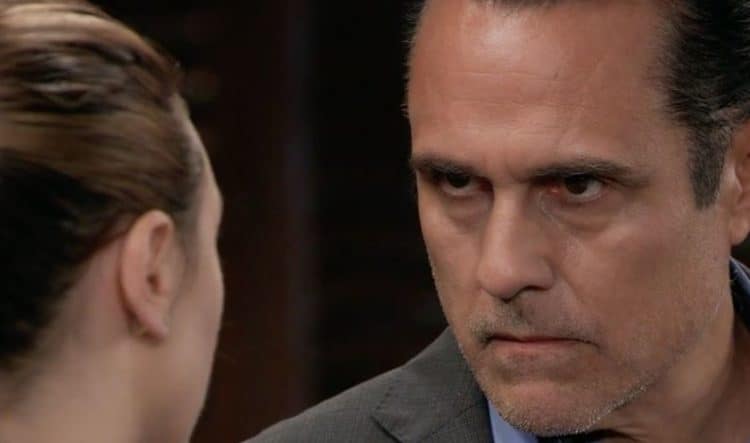 General Hospital fans watched a lot go down yesterday. One of the biggest problems we've noticed lately is that Maxie is so upset and confused. So many things in her life are happening that don't seem to make much sense to her, and she's not sure how to process this. She's upset, and she's not in a situation right now where getting over this is going to work for her. She's so upset about so many thing, and the confusion is not going to make her situation better. But she's also happy that Nina is getting her life together. She seems to be the only person there for her right now, and there is not much she can do to be there for her otherwise, but that's what works when they are not sure what is going on. They have a lot to handle right now.
And we did see that Nina and Anna seemed to come full circle with one another. They have a long history of things not working out with them. They did have a lot of trouble happen more recently as Nina was very upset when Anna was spending all kinds of time with her husband. He had feelings for Anna, she was trying to deny her feelings for him, and they had to get their situation under control. There was a lot happening there, and we are shocked that things didn't work out for them. She was investigating him, but we did think that there was something there. Clearly, Nina also felt there was something there, and she was not happy about. We don't know the extent of things between them in the future, but we do think they have a chance to really make things right at some point in the near future. They have a chance to make things right, but we don't know if they can keep it up for much longer. They have a long way to go, and there's a lot happening.
What's Happening on General Hospital
https://twitter.com/GeneralHospital/status/1041722220886847490?ref_src=twsrc%5Etfw
There are some fun birthdays this week on the show, and we think it's time to get over to the GH website and social media pages and start wishing all your favorites a very happy birthday. They spend a lot of time working on their own lives with us, so this only makes sense to do it. And we want to know that they can handle this in a happy manner. Can we do it?
What's Next on General Hospital
"And here I thought you were suffering in solitude… " #GH55 pic.twitter.com/UnnhnhO4uW

— General Hospital (@GeneralHospital) September 17, 2018
It's going to be a very emotional day. Carly is desperate. Michael is spiraling out of control after all that's happened in his life recently, and she's ready to do anything and everything she can to make it better for him, but she's struggling to make that happen. She wants to and has to help her son, but she has no idea where to start or what to do to make it happen. She is a woman who cannot help herself in any way, but there's very little else she can do to get her life in order. She's upset, and there's not much she can do about that. She's got this situation to handle, and it's not been a good one. And then there is a chance that Lucas is going to get an update on something that might make a difference in the lives of many.
And now Maxie is more confused than ever since it's happening that Nina is pressing her. She needs answers from her, and it's not good news that she's not getting any. She needs to find out all the information she can find, and she's struggling to get the answers she needs in the moment. Things aren't working out for her the way she had planned, and that is really never good news for her. She's going to have a long road ahead of her, and she's not going to give up pressing her for the answers she needs in the moment. This could become a situation she cannot control sooner rather than later.
Stay tuned for more General Hospital and be sure to check out TVOvermind daily for the latest General Hospital spoilers, news, and updates.