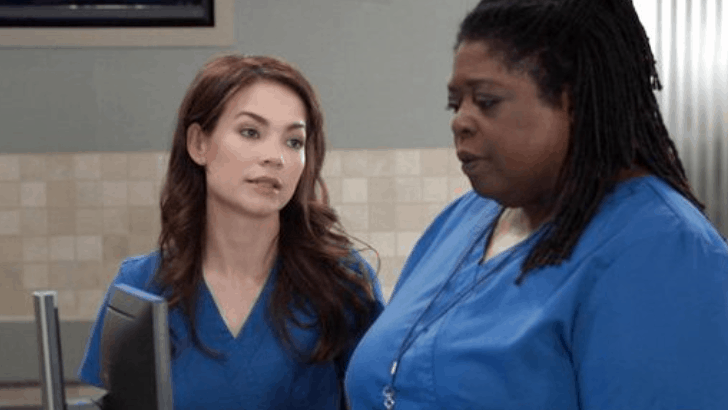 General Hospital fans had an exciting week last week, and we want more. The weekend is hard for us when all we want are answers, but we can handle anything thrown at us in most situations. For example, Kristina is not well. She is fighting her medical help with every ounce of her being, and we get it. She's been programmed to believe that she is a woman who has little choice in her life, in the matter of her situation, and in the things she is dealing with. She's not happy with the way things are going. She's not in the middle of anything good in her life, and she's not going to be very happy with what is happening if they cannot get through to her. Her mother, father, sister, and everyone else in her life are working so hard for her. But she doesn't want it.
Sam is doing things she should not be doing to make this work, and we have a feeling that she is going to regret a lot of what is going on in her life. The things she's having to do to make it seem that she is really a part of the DoD is too much for us, and we cannot handle that. She's got so much going on, but she might have to invalidate her real feelings and her real issues when she does things her way. She's not going to have much to do otherwise, and we cannot figure out what she is up to in her simple state of mind pretending that she is this person she is clearly not. What is going to happen if she cannot make this change right now? She is in trouble.
What's Happening on General Hospital
#TBT: @lldubs on the set of ABC's "Loving" in 1993! Raise your hand if you were a fan. ✋#ThrowbackThursday #GH pic.twitter.com/D8QXojOdsk

— General Hospital (@GeneralHospital) April 25, 2019
Were you a fan?
What's Next on General Hospital
"I am done with this. Eliminate him." #GH pic.twitter.com/wRuGEGTtgW

— General Hospital (@GeneralHospital) April 23, 2019
Things will not go well for someone this week, and Shiloh is going to make sure of that. He needs answers. He knows that Kristina's family has her, that they are trying to make her be theirs again, and he wants her back. We don't think that he would, for even one second, let her live at this point, but we do think that there is so much that could happen in the meantime. He's demanding answers, and he might just focus on Sam. While we think she's doing an amazing job, we are not convinced that he is convinced of her loyalty and her actions. She might have some big problems to face right now, and we think that there is a lot we can handle in this moment. We don't, however, know if this is going to be a situation we can focus on without much more grief. She's in trouble, and we know it. Sam needs to get some help in this situation and she needs to get out.
At the same time, we also know that something is going to happen that will alarm Sonny, which is not an easy thing to do. He's a man who is not easily alarmed, and this is going to give us anxiety waiting to find out what it is. His daughter is in danger. His amazingly good friend is in danger, and things are not in a good place. Will he react poorly and cause more problems than help? We don't know for certain what he will do.
Stay tuned for more General Hospital and be sure to check out TVOvermind daily for the latest General Hospital spoilers, news, and updates.
Tell us what's wrong with this post? How could we improve it? :)
Let us improve this post!