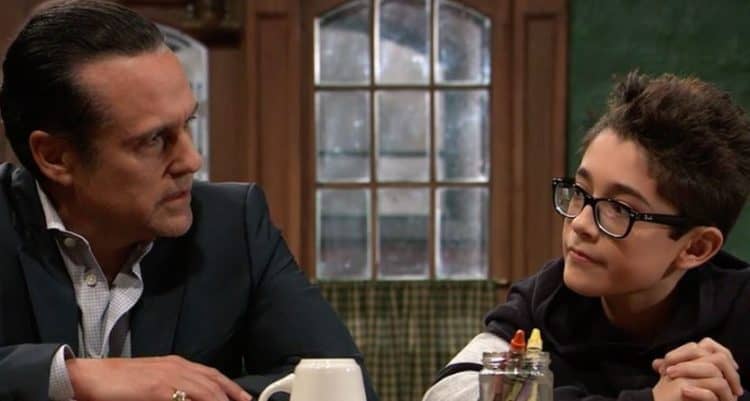 General Hospital fans aren't worried about Kevin, but we are worried about Carly now that she's had her words with him. She's not happy with his actions and a number of other things, and she's made it her mission to make sure he knows that he will go down for all of this and all it means to them, but we do wonder if this will turn her into a target of some sort before much longer. She's already in a state with her life and the things that are going on around there, so we do have to wonder if there is a chance she might just end up making a bigger mess of things than she is right now. She's been in a bad situation with her own personal life, and getting involved in all of this is not good news for her. She's a mess, and this might just not work out in her favor.
And then there is the fact that Ava received a surprise visit. She's not in a good place, either. Her daughter is dead, the world as she knows it is falling apart, and she's having to answer to things she is not sure she can get into the picture with. It's been very ugly and uncomfortable for everyone, and it's been a situation for all. There is nothing that we don't get to deal with in any other capacity, and we cannot help but wonder if there is something she needs to handle in her own way. Nina is trying to be there for Valentin so she can give him another chance. She's not sure she wants to, but she's been encouraged to do so, and it's been a mess. And now she's just sitting back waiting on it to all work out for her.
What's Happening on General Hospital
#WCW: @TamaraBraun's high kicks are legendary! #WomanCrushWednesday #GH55 #SocialExclusive #NewPhoto pic.twitter.com/VhDKPutNjs

— General Hospital (@GeneralHospital) December 12, 2018
We love this, and we love her. She's the kind of woman who just makes us feel good about things, and we love that about her. She is a total Rockstar in every way, shape or form.
What's Next on General Hospital
"He's slipping away." #GH55 pic.twitter.com/543wQuNjST

— General Hospital (@GeneralHospital) December 10, 2018
Kim is trying to give Oscar what he wants, which is his own space. He's not looking to spend any more quality time with her after all that is going on and all that is working for her, but he's looking to be left alone. He's not happy with his family, he doesn't trust them, and he's not in a place where he can handle their own situation without falling apart. He's chosen to take the treatment and see if he can improve his life, and he's not there to see if anyone else is able to do that on his own. For now, though, they have to work on what they can work on, and she's working on giving him the space he needs so that he might one day forgive her for what he feels she's done to him with her lies.
Then there is Sonny, who will sit down and speak with Oscar himself. He knows this young man is not going to end up with things going his way, but he will do what he can to ensure that things do go his way. He's looking to make sure he's able to help this young man out because he likes him and because Joss likes him. He's all confused right now about what to do with his life, if he still has one, and he's struggling with his parents and that entire relationship situation. We aren't sure he can make it more awkward than it is, but it might just go that route before it gets any better.
Stay tuned for more General Hospital and be sure to check out TVOvermind daily for the latest General Hospital spoilers, news, and updates.