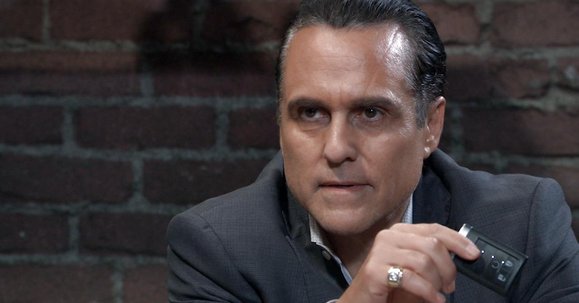 General Hospital fans are concerned that Michael is concerned. Things are not going well for anyone around here, and he can sense it. Not only can he tell that there is something unhappy with his mom and Sonny, he can also tell that there is a lot more going on. He's worried that Nelle will be released from prison as things are looking that way from the start, but he's got so much on his mind right now that he doesn't even know where to begin. He's still unaware that this little boy he calls his Godson is really his actual son, and Nelle will do anything and everything to keep it that way. She's not at all interested in sharing this child with him. She has a plan, and she's going to do all she can to make sure this plan works out as well as her last one did.
Sonny is not happy with what Julian did, and he's got some questions for him. Of course, we know how much other than what is going on right now with Sonny that Julian has on his mind. One, Alexis is not happy. His daughter is in serious trouble, and his son's situation is one of the ugliest of all time right now. Things are not going well, and he still has to figure out how to help his sister when she doesn't seem to want to do anything that is safe or reasonable at this point in her life. She doesn't seem to want to help herself, which is a big problem for him in every single manner of speaking. Right now, things are just not looking up for them in any capacity — and we cannot figure this one out in any way. But, Sonny doesn't care.
What's Happening on General Hospital
Have you wanted to meet all of your favorite Port Charles stars? Come to the official @GeneralHospital convention in Burbank this May! Get your tickets now for 3 big days of GH fun! https://t.co/O1Zfv0SM2T #GHConvention #GeneralHospital pic.twitter.com/G8veGglvBA

— Creation Entertainment (@CreationEnt) January 8, 2020
Get in line now!
What's Next on General Hospital
"I am about to have the sweetest revenge." #GH pic.twitter.com/sseIsev8GJ

— General Hospital (@GeneralHospital) January 7, 2020
Julian is not a happy man right now. He's actually a man who is feeling a lot more fear than anything else. We don't know if he's worried that things will fall completely apart for everyone in his life, or if he is simply worried that Sonny has more information that he is letting on and that he is going to use this information to get what he wants and move on with things that are not part of the plan that he is working on. We cannot be sure, right now, of course, but he's afraid. This is not a good week for him, and he's out of control in terms of figuring out what to do and how to do it. He's got to get this situation under control, and that is all there is to it. On the other side of things, he cannot handle things unless he can get the pressure off of him, too.
Meanwhile, we also think that Sasha is going to be as encouraging as she can, and we think that her encouragement is directed right at Michael. They are struggling to make things work, but she's been there for him as a friend in a way that he cannot deny, and that is a beautiful thing. He's got so much in his life to be thankful for, and that's a beautiful thing. On the same note, though, there is a lot of frustration in Jordan's life that we aren't sure can be handled accordingly right now. There might be more to this that needs to be dealt with sooner rather than later.
Stay tuned for more General Hospital and be sure to check out TVOvermind daily for the latest General Hospital spoilers, news, and updates.
Tell us what's wrong with this post? How could we improve it? :)
Let us improve this post!