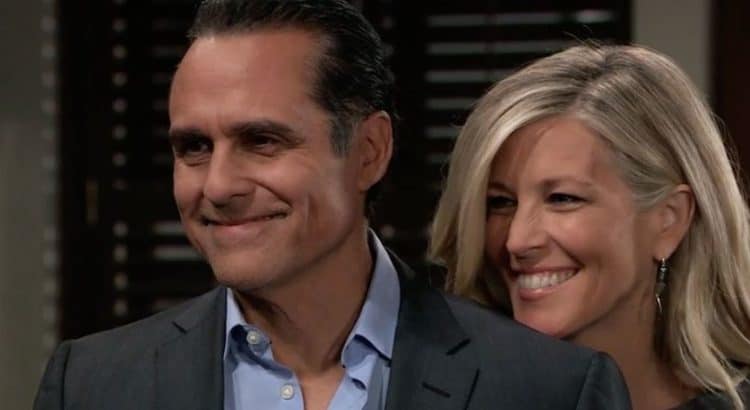 General Hospital fans are all kinds of crazy right now after watching Sonny go over all that might have been in his life had he made a few different decisions at other points. We saw him as a child going through the motions of making his life decisions, the other options he had, and so much more. But we really just don't know what to think of all this. If he didn't do all that he did, we wouldn't have him here, so we are kind of glad he made all those poor decisions so long ago. Life would be so boring without him as he is, and he knows that. But now he's nowhere to be found, and his own wife is worried about him. To be clear, she's been very focused on her own life and the things that she is worried about proving that are going on at Ferncliff, and she's not been paying much attention to him at all, but that's not our concern right now. Our concern right now is that she's able to get this situation under control. She's been a mess.
But right now she cannot find her husband, and that's got her very worried about things. She is in a place where she cannot figure things out, and she's worried. She needs him, but Jason has an update on the way things are going in other situations. That means she has to sit back and listen to that before she makes any final decisions on anything else, which is just good news for her. She's got a long list of things on her plate, too, but that's not enough to get her to stop and not listen to what Jason has to say. He is her partner right now.
What's Happening on General Hospital
https://twitter.com/GeneralHospital/status/1062027126579310592?ref_src=twsrc%5Etfw
Um, we do realize that Monday is long since over (thank goodness, too) but we also know that we cannot get enough of this. So, you're welcome, and don't complain about things as they work out in your favor. We love this, we love you, and we want to share it with you today.
What's Next on General Hospital
"Are you still looking at Carly for this murder?" #GH55 pic.twitter.com/M0CwA3fgJ9

— General Hospital (@GeneralHospital) November 13, 2018
Elizabeth is nothing if not a very patient woman. She is someone who knows that people need more time, and she's been through enough in her own life that she might not have much of a problem waiting around for people in other situations, but she's got to figure things out. She's not being so patient these days, but that's not good news, either. She's losing her patience, and everyone needs to get their lives together to help her make better decisions about the way things are. She might not have much to say at the moment, but she's going to flip her lid if someone doesn't get her into the place she needs to go. She's upset, she's not handling it well, and she's impatient with so much.
But that's not all. We also know that Franco is going to look to Scotty for help, and Laura is meeting with Sasha. We know that Franco needs to work with Liz and be a team there, but he's not doing it. And that's why she's impatient with him. And then there is Sasha — we don't trust her. She's shown up with some agenda that we might not know exactly about yet, but we will sooner rather than later. We just struggle so hard to believe that she really belongs to Nina, and we are having a strangely difficult time falling in line with liking her. And we do wonder what Laura might think of her when she does get to meet her. Will she feel the same way we feel about all of it?
Stay tuned for more General Hospital and be sure to check out TVOvermind daily for the latest General Hospital spoilers, news, and updates.
Tell us what's wrong with this post? How could we improve it? :)
Let us improve this post!